Clara Cowan contacted FFS about her music and art shows held at the Utrophia Project Space near Greenwich. With alumni including Rachael Dadd and Tristram and an upcoming show in a 1950s ice-cream factory featuring Laura Hocking and Mary Hampton, we just had to hear more about it.
FFS: What inspired you to start Folie à Deux?
Clara: Chris and I met working at a gallery in North London, he was the curator and I was the intern. We bonded straight away over utopian and controversial 20th (eg. Dada, Futurists), David Lynch and music. We curated exhibitions together under the umbrella of this museum and soon realised that we loved these particular group of artists for a reason – they embraced their time, promoted the artists around them and also combined art, music, poetry, film, architecture altogether with life – they made art and everyday life one and the same thing, they changed the way people thought about life with art. We decided that we wanted to do our own thing that would excite and inspire people. So at lunch time on a sunny day in an urban park an idea was born….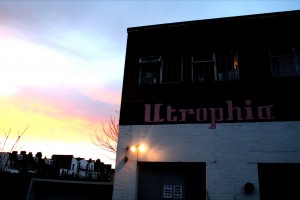 What made you choose the name?
Folie à Deux means 'a madness shared by two' and reflects our shared obsessions with art and music. The difference is we want to share it with others, not be crazy and keep it to ourselves or delusional (hopefully) as the term suggests. Essentially, it sums up our friendship and working relationship, we are instinctually synced on the same level! Chris actually discovered the name when reading about the film Heavenly Creatures which is about two girls murdering one of their mothers… which is kind of scary but then we can be, so…
What's different about your nights?
We prioritise art and music coming together in a beautiful unification. It is our idea of a perfect night to stimulate both senses! For example our first exhibition I have this strange kind of feeling and I just can't place it… came with our first magical gig night – Ben from Mariner's Children, Dear Winesburg and Amber States. At these nights people get to watch the music and then during the breaks see a wonderful art exhibition. What really makes our nights especially different though is the unique venue that we host them at – Utrophia Project Space.
Tell us a bit about the gallery and how you got involved?
Utrophia is a 1950s Ice-Cream Factory that has been turned into an art gallery, artist studios, vegetable patch and event space! Cows actually used to be milked outside in the garden! The art exhibition is held in quite an industrial room (our idea of heaven) and the music event is in a barn space transformed by Matt Rigsby Smith into a cosy intimate venue. I met the Utrophia people at a friend's private view there and one summer I also went to see Rachael Dadd and Rozi Plain perform informally in the garden with nettle wine and nibbles and I fell in love with the place. The people who set up Utrophia are some of the nicest, genuinely wonderful people and artists I've ever met and they make the atmosphere incredibly unique. We had to have our first exhibition there, and then the gig night went so well that Matt and I decided to carry on doing them as a collaboration!
What is the next exhibition?
We are just planning our upcoming exhibition for this summer which will be a group show with four artists called Surface Tension. We have included one of the artists from the past show Giulia Ricci, who does beautiful intricate drawings exploring the order and disorder that structures the world, through repetitive pattern making and shapes taken from macro or micro view points. Looking at her work you feel incredibly calm, calm about any disorder that happens in life, it suddenly feels like a natural part of it. We have three other artists confirmed too and now we are looking for a venue! If anyone knows an affordable gallery please contact us [see below for contact details].
What has been the best moment so far?
It has to be our first Private view and also gig night. We had no idea what to expect, if anyone would turn up, what people would think. On both nights the place was absolutely brimming with people – genuine, lovely and happy people! It was so nice seeing that people really enjoyed what we were doing and for our first try it was incredibly euphoric to see that happening. It was also pretty cool to get in Time Out's Best Galleries in South London – I'm not sure how we did that!
What are your favourite albums?
Ah tricky question. I would say current albums that I particularly love and I never tire listening to are definitely First Aid Kit The Big Black & the Blue and Wild Beasts Two Dancers (also Limbo, Panto – flawless album!),Peggy Sue Fossils + Phantoms and Peter Broderick's Home. Right now, This is the Kit's Wriggle Out the Restless is heaven and I've recently rediscovered Johnny Flynn's A Larum.
Who is your favourite live act?
I am little obsessed with the Mariner's Children, Tristram, This is the Kit and Laura Hocking at the moment and I'm not just saying that because they have played or are playing at our nights in the barn. I always love seeing Alessi's Ark, particularly solo, every time I get excited. Mountain Man (Union Chapel) and Beirut (Greenman) were incredible last summer and of course Wild Beasts (obsessively seen 5 times) and Prodigy – I left the planet and went off into another world when I saw them.
What's the next show you've got coming up?
Our next gig night is on 30 April with performances by Mary Hampton, Laura Hocking and Nick Mulvey (of Portico Quartet) all in the barn at Utrophia Project Space. There will also be an art exhibition in the gallery, not organised by us this time, but it will no doubt be wonderful. It's the perfect night for a chilled night (if you went nuts on Friday) or to carry on your bank holiday weekend of cheer! People say they can't believe this place exists in London, so if you're in need of a holiday! We are incredibly happy with the insanely beautiful line-up and promise it to be a magical evening.
---
Folie à Deux are always looking for new atists and musicians to promote whether for future exhibitions and gig nights or virtually. If you like the look of what they do, contact Clara and Chris on Facebook, Twitter (FaDgallery) or at [email protected]. For more information visit the Utrophia website or pop into the gallery at 136 Tanner's Hill, SE8 4Q.