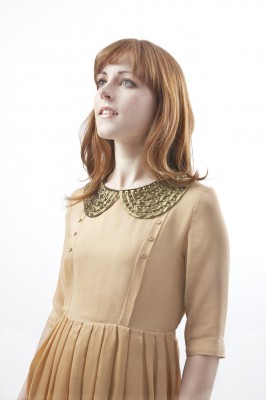 Hello, please introduce yourself and your music to the uninitiated…
Hannah Peel: wonky folk pop with hints of traditional irish, Yorkshire brass band sounds and a cloaked throbbing sadness.
Tell us a bit about the Broken Wave, what was it like working with Mike Lyndsay and Nitin Sawhney?
Making the record has just been an amazing experience. I've never worked with a producer before so it was very exciting to have my songs taken and expanded in a studio. A very magical experience which I hope comes across in the record. Mike was very quick to understand where I was coming from. Nitin Sawhney's string arrangements are very sensitive but also beautifully rich. He is very controlled and experienced in the studio and a real inspiration to watch.
What has been your best ever gig?
Anything in Ireland has always been great for me so far. Maybe its because I feel comfortable being there, or maybe its just that everyone is very enthusiastic for the music. My favourite gig was this christmas past with Blue Roses, where we did two nights inthis wonderful independent bookstore called No Alibis in Belfast – brilliant gig and incredible audience.
What is the worst thing about being a musician?
I wouldn't say there is a bad thing about it, except some aspects of it are harder than others for different types of people. The unpredictability of music industry is sometimes quite hard for me – but then this is also an incredible experience as you never know what will happen and who you will end up working with.
What music do you listen to?
Oh I love a lot of different styles and artists. I love the music of Ennio Morricone and also classical romantic composers like Debussy, but then I could listen to Tom Waits, Sandy Denny, Radiohead, Colin Bluntstone and The Books too.
You say your heroes are Sandy Denny, Judee Sill and Joni Mitchell – they're three of FFS's favourite ever artists. What particularly do you like about them and how did you get into them?
Ah ha! I just mentioned Sandy above! Its their voices. Incredible singers with no fancy ornamentations. They sing from the heart and their use of lyrics and form are very far from the ordinary. I also love the recording era they are from. The production sounds real and honest.
What inspires you?
That is a massive question…but everything does – things I read, see, feel and experience…this could go on forever.
If you had a billion pounds what would you do with it?
That totally depends on whether I had worked for it or not. If I hadn't work to acquire it, I'd give it all away to charity without a shadow of doubt. If I had earned it – I'd probably make sure I paid my parents back for all the pounds they spent on my music lessons throughout my childhood, and then give a massive sum of it away still!
Which of your songs is your favourite?
I love the Almond Tree when we play live as a band, as I get to have a dance! But really my heart is with Solitude.
Do you have any exciting plans for the future?
Many many plans but to make a lot more records and see the world would be a good start.
If someone wants to hear your music, where should they start?
Have a listen online and then come and discover it all at a live show.
Do you have any artist recommendations for us?
Have you heard the voice of Dan Michaelson? Incredibly low and wondrous.
You can take Hannah's advice and catch her on tour at one of the following dates:
8th Mar LIVERPOOL Scandinavian Seaman's Mission
19th Mar MANCHESTER Cross Street Chapel
20th Mar LEEDS Oporto (Free Entry)
24th Mar OXFORD Jericho Tavern w/Erland & The Carnival
25th Mar CAMBRIDGE Haymakers w/Erland & The Carnival
26th Mar LEICESTER The Musician w/Erland & The Carnival
31st Mar BIRMINGHAM Hare & Hounds w/Erland & The Carnival
1st Apr LIVERPOOL Williamson Tunnels w/Erland & The Carnival
2nd Apr SHEFFIELD Leadmill w/Erland & The Carnival
4th Apr LONDON The Lexington
5th Apr EXETER Phoenix w/Erland & The Carnival
9th Apr CLITHEROE The Grand
20th Apr GENT Charlatan HEADLINE show
8th July Lounge On The Farm Festival
20th Aug Green Man Festival Pub Stage