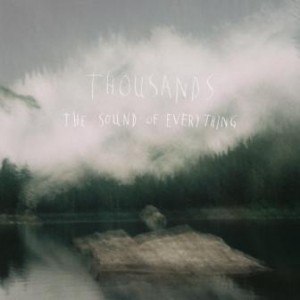 For those of us who resolutely refuse to heed the long-given advice not to judge a book by its cover, seeking out new bands can be a fraught mission. You look for little hints – the cover art, a particular kind of venue on their tour schedule, a tell-tale cover version. Most obvious of all though, you look for band names and song titles. If you're on the lookout for something lilting to soundtrack hazy summer days, you probably don't need to hit the play button to work out that Eminem's 'Bitch Please' or anything by the Butthole Surfers isn't going to hit the spot.
All of which brings us to Thousands. Their name alone suggests a Polyphonic Spree-style collective, all massed ranks and kitchen sinks. To find their debut album is called The Sound of Everything only increases the expectation of a big old wall of sound, populated by as many instruments as you can imagine. In reality, nothing could be further from the truth.
The band are in fact a two-piece – Seattle pair Kristian Garrard and Luke Bergman – and their sound is stripped back to the very bones. On first listen it is tempting to merely tot up the influences you can spot – like a musical wordsearch. A bit of Midlake's The Courage of Others in 'MTSES III"s pastoral vibe, a whole lot of Richmond Fontaine in 'Big Black Road"s half-spoken meander. Elliott Smith here ('Red Seagulls'), Simon and Garfunkel there ('Sun Cuz').
Once you're over that little game, though, it soon becomes apparent that this is really a highly accomplished album in its own right. To call to mind so many fine artists with the same unadorned acoustic guitars and harmonies is no mean feat, but to make you forget about them after a couple of listens is an even greater one.
Words: Rory Dollard