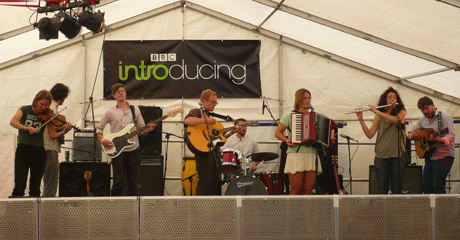 Cocos Lovers are nominated for our best album poll for their magnificent debut Johannes. Will Greenham from the band answered our questions.

FFS: Congratulations, you've been nominated for a Schmercury. How do you feel?
Will Greenham: We were surprised and very happy. There are some great bands listed and it's good to feel that an album that was pretty much recorded and produced on a shoestring can sit along side these.
What did you think of the Mercury nominations this year?
To be honest, it is not something I've kept up too speed with, so wouldn't know.
Aside from your own, what's your favourite album on the Schmercuries list?
'I Speak Because I Can' by Laura Marling is brilliant
What album (released this year) have we missed off the list?
Infinite Arms – Band of Horses
What are your thoughts about the album?
We were very pleased to get it done. It was an album we needed to make, as we wanted to move on from some of the songs and also the time it represented in our lives.
Did you know it was special when you were making it?
It will always be special to us because it's an amazing way to collect memories in the form of a song. We had some great feedback from people who really relate to it and that makes it feel even better.
Were you happy with it when it was released?
Yes and No. We recorded it mostly live, so there was no big production, hopefully it captures something, however, some of the songs I feel are better experienced live. I'm, still pleased and proud to have made the album, but it's hard to ever to be truly happy. There is always something that can be improved. I think in 5 years I may feel truly happy with it.
What do you think about the reaction to it?
It's been great, reviews have been positive and the sales of the album on the road have been phenomenal. It has created a great foundation for our next album.
What's your favourite song on the album?
Either Silence of a Moonlit Sky or the secret track Johannes. These tracks create good memories.
What's your favourite album ever?
Graceland – Paul Simon
Do you have plans for your next album?
Yes very much so. We will be entering the studio for the winter, which is very exciting. This album is likely to be a little more old school with analog and more time spent on the overall production. We have a number of new songs already and can't wait to start recording.
---
You can still vote for your favourite album below, the winner will be announced on Wednesday 15th September
[polldaddy poll=3586532]