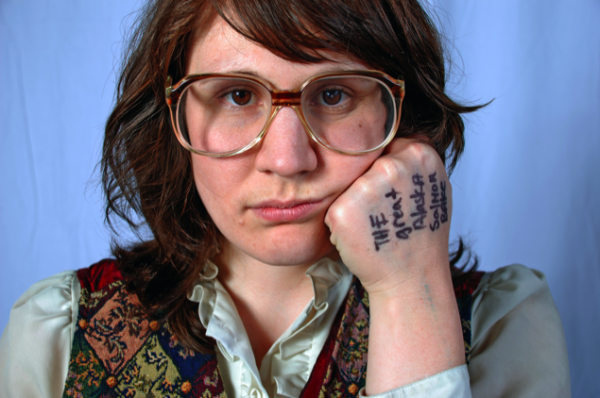 We first came across Sea of Bees when our writer Alice Knapp saw her supporting Breath Owl Breathe in the US earlier this year.
Loving what we heard on her myspace we couldn't wait to hear her album Songs for the Ravens. And when we did it blew us away. It's delicate but powerful, unusual but universal and when the time came to decide on our Schmercury nominations, we couldn't miss Sea of Bees. Here's the lady behind the moniker, Julie Baenziger, to tell us a little more about the album.
FFS: Congratulations, you've been nominated for a Schmercury. How do you feel?
Jules: Haha I don't know know? I wish I was close by in London to know.
Aside from your own, what's your favourite album on the Schmercuries list?
MOUNTAIN MANNN & MIDLAKE!!!
Tell us a bit about Songs for the Ravens
It was fun and full. John Baccigaluppi my good friend and I shared alot of ideas and enjoyed the process of the whole experience.
Did you know the album was special when you were making it?
Yes, absolutely. Working with my best friend was the best experience. Easy going and we worked well together. I put my heart out there on the album, it is completely special.
Were you happy with it when it was released?
Yes, My new friend and now one of my close friends Michael Leahy of Crossbill Records put it out with belief. We had a good release show with [sometime member of the Mountain Goats] John Vanderslice — a good friend of Sea Of Bees. What more could you ask for? We have a tight family… Riot act Media and Crossbill and the Hangar Studios in Sacramento… Honest good fun. And now Jeff and Danny from Heavenly Recordings and Simon Raymonde have been a big help there in London and they have allowed me to be a part of their family.
What do you think about the critics and fans' reaction to it?
Good or bad, I am curious sometimes to know what people think and sometimes I am not. Fans are sweet though, they're brothers and sisters I haven't seen for half of my life and all of a sudden there they are.
What's your favourite song on the album?
I love them all.
What's your favourite album ever?
Oui, thats tuff… Jeremy Enigks solo work.
Do you have plans for your next album?
Yess it is a secret.
---
Vote for your favourite of our 12 nominated albums below.
[polldaddy poll=3586532]
Sea of Bees will be in London in the next couple of weeks. Catch her at one of the following dates.