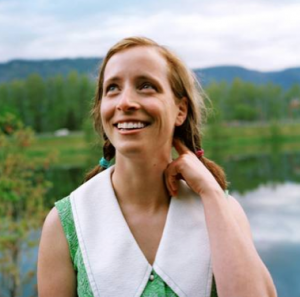 Laura Veirs entourage for this 8-date European tour includes her four-month old baby Tenessee, his dad Tucker (who she endearingly calls her "sweetheart") and her parents. Perhaps it's the presence of the babysitters, but Laura looks like she's finding motherhood a breeze. She is calm, friendly, and had my dictaphone not malfunctioned I'd be able to demonstrate just how intelligent by quoting her earnest answers to my questions in full.
I get the impression that Ms Veirs takes life quite seriously. Not that she's no fun – she's cheerful and quick to laugh – but she seems to always try to do her best. Lazy she is not.
Not really interested in music as a youngster, Laura first picked up a guitar in high school when her brother taught her "a few chords". It wasn't until college — where she studied Geology and Mandarin — that she started getting lessons.
In college she joined a feminist punk band, and she says social issues still concern her. "It sounds a bit wimpy to say I've become less political," she jokes, "but I think it's less overt". Sun King, on her current album July Flame, is about corporate greed, and the feeling like we're the centre of the universe is dashed by the line "We all know that the sun is king/ there's no messing with its orbiting".
Veirs doesn't think the transition from punk to the gentler folkier music she makes now is a big jump. "They're both about simple storytelling and a heartfelt performance," she says.
Before July Flame Laura had a break from recording for a few years because she wasn't happy with the songs she was writing. "I felt like I was doing stuff I'd done before, using the same lyrical themes, she explained."
Writing the album's title track broke the spell. "I got excited about writing again. I wrote that batch then a second one."
Veirs says she could never release anything she didn't like. She doesn't have the record label pressures of some bands – July Flame came out on her own label Raven Marching Band Records. The label also releases the music of Mount Analog, Tucker Martine's band.
The band – Laura, Tucker, Karl Blau and Alex Guy from Lead to Sea – show no signs of babysitting fatigue. With a turn by Karl Blau playing keys and his bass at the same time (nope we don't know how either) and a spine-tingling rendition of July Flame with a crescendo that worked its way into our minds. "Can I call you mine? Can I call you mine? Can I call you mine? Can…."