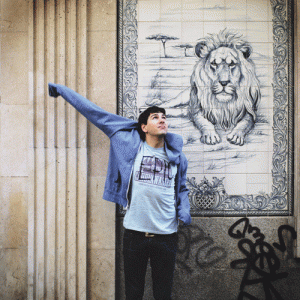 The hottest thing to come out of Spain since Sangria, Wild Honey's Guil talked to FFS about being a Spaniard in London, giving away Epic Handshakes and a Bear Hug for free, Beach House, Summer Camp and Spotify Playlists (he's a big fan of our Brian).  Read this bumper Q&A session here…
FFS: You came over to London to play a gig a few months ago.  How was the gig for you, and what did you think of our illustrious capital?
Our gig was put together by the Spanish promoters La Fonoteca that are focused on bringing Spanish bands to play in London. Wild Honey is a really small project, I've released the album on my own label and I don't have any kind of distribution.
What I do is to sell the records by mail and at the gigs (as well as having it for free download in Bandcamp) so you can imagine that having the chance to play in London is just amazing. We had a lot of fun and I think it went pretty good even if I could not play with the whole band (normally we're seven people on stage). The gig was also a good excuse to spend a weekend in London, which is always great.
Giving away the whole record for free is rather generous – why did you decide to do it that way?

I've released the record on my own. That means that I don't have the budget, the contacts or the knowledge of a classic label and the best way to let people know your music is to give away the record for free. I think it makes sense: the more people that listen to the music, the more that will eventually buy the psychical record. Also, I've tried to make a beautiful edition of the album, it's an 180gr red vinyl that comes along with a CD and it has a really cool cover made by Grande Graphix, so that way those who want to pay for the physical record will also be buying a beautiful object.
What do you think makes a great song?
It's difficult to say. Sometimes I like a song because it has a great hook (it could be a chorus, a keyboard riff, etc.), sometimes because I can't take the melody out of my head and sometimes because it tells a good story. When all these things happen at the same time then you've got an amazing song.
If you could collaborate with any artist on the music scene at the moment, who would it be?

Maybe I'd take the chance to work with one of my heroes, someone like Dion DiMucci, so I could ask him thousand of questions, or maybe Brian Wilson just to spend some time with him. From the current music scene, I'd love to have a song arranged by Neil Hannon or Alexandre Desplat, the French Film composer. As this is about daydreaming, I'd definitely put Beck on the list, his productions are amazing. I'd also love to collaborate with people like Panda Bear or Daniel Victor Snaith from Caribou, I guess that their way to write and record songs is far different from mine, so it'd be great to spend some time with them learning different techniques and different approaches to song writing.
Do you have any new releases in the pipeline?
I play bass and write for another band, Mittens. We've released our first record a couple of weeks ago. You can download it for free at Bandcamp.  Besides, I'm starting to record new songs for Wild Honey that will be published after the summer in two 7" on two of my favorite Spanish labels, Elefant and Jabalina.

Do you have any gigs and/or tours coming up?
I don't have anything like a booking company working for me, so it's just me trying to find gigs, which can be difficult sometimes because I don't have the right contacts. We played Primavera Sound a month ago in Barcelona, a huge festival with headliners like Wilco, Pavement or Pixies, there are a few gigs in Spain after the summer and I'll play in London again next November (although I don't have any information on the venue yet).
Are there any new artists you want to tell the world about?

I'm listening to music all the time and I get excited about songs I discover almost everyday. I try to post about my new favorite bands in my blog (all the entries are in English too if anyone wants to check them out). There are some songs I've been listening to non-stop for the last week: Beach House Teen dream is amazing, I love Caribou's new album and my favorite 7" of the year is Ghost Train from Summer Camp. Here are some Spotify "mixtapes" I've done in the last months:
Love Is Here To Stay (Mixtape)
Winter Beats & Harmonies (mixtape)
Wild Honey's 2009 Hit Parade
What are your plans for the next year?
Epic Handshakes and a Bear Hug had a very small release, just the LP+CD version, and I'm working trying to release it worldwide on a nice digipack version right after the summer. There are the two 7" I'm writing songs for now and my plan is to start working on a new LP next winter and also try to play as many gigs as possible.
You can listen to Epic Handshakes and a Bear Hug on Bandcamp whenever you darn well like.