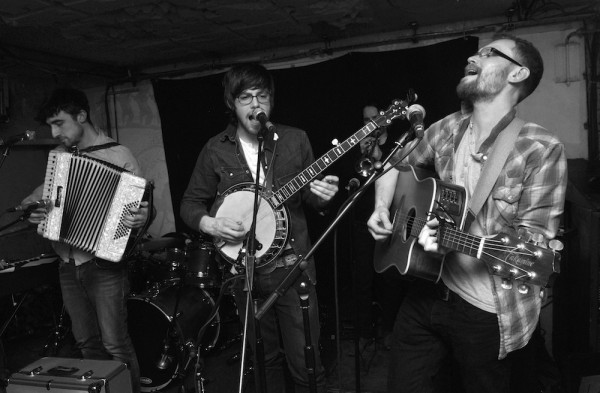 In one of FFS's more Matthewy encounters, our interviewer Matt Moss chatted to Matthew Hegarty of Matthew & the Atlas about his band, his banjo and his inspiration
For Folk's Sake: So in the beginning, what made you want to write songs?
Matt Hegarty: I taught myself to play guitar when I was 15 or 16 years old. I was pretty much writing from the start, whether it was a guitar riff, or couple of chords strung together with a melody. I think I got a better feeling from that than learning other people's songs. I've felt a need to keep writing better songs since then, like the last one was alright, but I know I can write a better one. I get a buzz when I think I've got something good, sometimes it slips away, and sometime you keep hold of it. It can be quite elusive at times, I think that makes me want to keep writing all the time.
Who influenced you as you began writing? Do these people still influence you?
I was really into Nick Drake, John Martyn, Jeff Buckley and Bob Dylan when I started writing. I'm definitely influenced by them still, its not as immediate as I don't put their records on as much as I used to, but I hear it coming out in new songs still, whether I want it to or not sometimes.
When did you all come together as a band?
The band came together piece by piece. Lindsay [West who is an artist in her own right MySpace] and Dave were the first to join, we met when they were both running a music night in Woking, and she booked me to play. We did some gigs together, each doing our own sets, playing our own songs, sometimes just with Lindsay and sometimes Love.Stop.Repeat, which is Dave and Linds. Eventually we started working on my songs, seeing how they sounded, while we were doing this, Communion offered to make a record with me, so I put some songs together and us three went into the studio. During this time I'd been booked to play at Notting Hill Arts Club for Communion and it's there I met Harry, our banjo player. He seemed into it, so I asked him if he wanted to come along and put some banjo parts on the EP, he very kindly did, and his playing just blew us all away. He's been in the band ever since. Our drummer Tommy is an old friend of mine, I used to play in another band with him. He's more into rock music, so I initially didn't think of him when we were looking for a drummer. We had a couple of practices after we'd done the EP in the winter, and he got it straight away. About a month later, it was our first gig, which was March.
What inspires you when you write?
There are lots of things that give me inspiration, sometimes its might be something that's happened to me, or something a friend is experiencing. Films and books give me ideas, and can put me in different moods to write. I think I revisit certain themes occasionally, looking back to the past more.
What's your instrument of choice?
The guitar, but I pick the banjo up quite a bit to write on.
You changed your name to Matthew & the Atlas last year, where did the "and the atlas" come from?
I didn't want to perform under my full name anymore, I liked the idea of having a moniker and the detachment you can have from it, though not fully as my first name is Matthew. The Atlas was the first name I came up with after trying a hundred others. I like the vastness the word Atlas gives, I really like to travel as well and I like the feeling and imagery it gives. Someone said I should of have named us Matthew & the Sat Nav if I liked to travel so much. Doesn't have the same ring though.

The harmony between you and Lindsay West is beautifully balanced, how did you discover your voices gelled so well?
The first time I saw Linds play was when she booked me for her night in Woking and she asked to borrow my guitar so she could play a couple of songs first. I just loved her songs and her voice, and there weren't a lot of people playing folk music round where we lived, so she really stood apart. It made sense to me that our voices would fit together well, having a voice so pure sounding as hers, is only going to make mine sound more world weary and beaten up, I really liked that idea.
When you come to write a song do you find you always approach it in a similar way?
Our approach to songwriting is changing all the time. Before we were a band, it was just me writing, and I still approach it in a similar way. I mess around on the guitar trying to find a melody I'm in to, then I work on lyrics, then demo the song on a 12 track. I can layer vocals, put banjo and percussion down, try to get a general feel of how I want it to sound. I send these to the band and they bring their input to rehearsal. It's not always like this as were still gelling as a band and working this stuff out, but this seems a good way for the moment.
Your EP 'To The North' is available now, what can listeners expect from the it?
Some banjo, hand claps, gravely vocals and girly vocals and hopefully some enjoyment.
Why did you choose to call the EP 'To The North'?
To The North was actually the 5th song on the EP we decided to drop. I liked the name, so we kept it as the title. I like the way it works with the atlas, and the movement it gives.
What music are you into at the moment? I just bought Villagers new album, which I'm really into and Micah. P. Hinson latest LP, which is a slight departure from his last three albums, it feels more experimental, it's good. The National's new album is great as well.
How would you describe your music?
I don't' mind the folk tag, it's not particularly traditional, though it does owe debts to it. Hopefully it's a mix of this, contemporary folk and Americana, and whatever you may think it sounds like.
What's coming up in the summer?
We have quite a busy summer writing for our next EP, and we'll be heading into the studio in September. We'll also be shooting a music video in a few weeks which should be ready for mid August. Then we're off on tour with Mumford & Sons in the autumn, which we're really excited about!