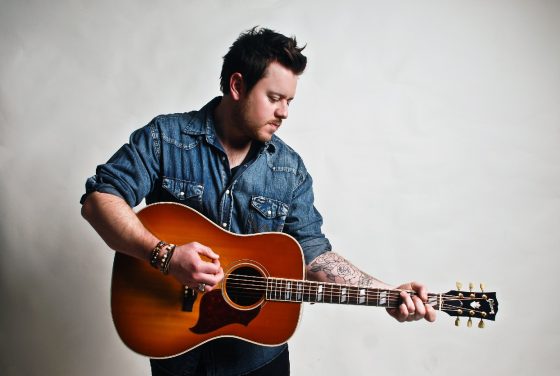 In the world between folk singing and rock 'n' roll, David Lareau presents his own microcosm. Together with his band, Whiskey in the Pines, they create heartland-reminiscent blue collar music. It feels a little like Damien Jurado, a little like Ike Reilly, and a whole lot like their own thing. Tallahassee offers the ideal homebase; their lush cityscapes and coastal vistas are the perfect backdrop for the band's own brand of reflective songwriting. Their latest release, 'Hotel Bar', encapsulates their intimate understanding of a road well-worn. Collectively, their catalogue might be regaled as a strong soundtrack for long drives—maybe a little like the likes of Springsteen, Isbell, and Sturgill in how they share their hearts.
Tell us about your new single, 'Hotel Bar'.
'Hotel Bar' is an older song of ours, but one that we've always played live. It's one of my personal favorites because the lyrics and melody came together in such an effortless vein. When I sing the song I am magically transported to a life of a gypsy on the road, bouncing from hotel to hotel, passing strangers nightly in the hotel bar. The loneliness one can feel while traveling is sometimes the most beautiful thing about it, because you are with you and you alone.
With that said, there's adventure and excitement when you go to a new city and check into that hotel. That becomes your place of refuge. While the life on the road contains the peril of excitement and adventure you still miss your life back home, the loved ones, the friends, the weekend BBQs, holidays, birthdays. There is something tragically romantic about loving to be on the road but also longing to be home and your only friends are the ones you make at the hotel bar. 
You put out an acoustic EP earlier this year – what's been the response from your fans?
The acoustic EP was a stripped down version of our EP's we put out a couple years back, Sunshine From The Blue Cactus and Aloha Motel. I totally forgot that we did that in the studio and I found it during a boring day being locked inside during the covid lockdown. People really enjoy being able to hear the songs the way they were written and these songs work really well by themselves or with the band. Overall I think the fans enjoyed the heck out of it. I play acoustic so much that it brings them back to those soaked cheap beer drunken nights, and what can be better than that. 
You seem to be compared to a lot of early Jason Isbell and Ryan Adams. Is this a fair comparison or is it something that you hope to move past?
I mean that's good company to be in. I know Adams has his personal stuff going on but that doesn't take away the fact that he is the Neil Young of our generation. Both great, the best. So no, haha, I have no problem being compared to them to answer the question. I listen to their stuff all the time and their live shows are incredible. Isbell is a beast, some of the lyrics that guy writes should be framed and put into an art museum. Both heroes of mine. 
What have you been listening to music-wise lately?
I've been listening to a lot of the Trolls Soundtrack, some Frozen 1 & 2, and we are big fans of the Disney I Heart Radio station. The kids in my house have control over the radio these days. 
What can we expect from Whiskey in the Pines next?
So from time to time I might poke my head out into the live show world playing some acoustic shows. The band is spread out now so it's tough for us to tour and gig and we've already decided at this point we won't be replacing anyone in the band. We are working in the studio and recording more music, so you will see more releases from us at the end of this year and early next year. The end of this year will be a darker Christmas song we've been working on called "Christmas in Hell." As far as the other tunes they will either be put out as individual singles or as a full length we are still working on how we want to approach it. Other than that we will probably end up drinking too much at the end of the day and trying to put out the best music we know how to do! 
Words by: Jonathan Frahm