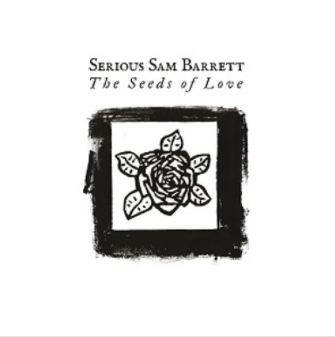 When he's not hit the road, you might find Serious Sam Barrett off Otley recording his next scorcher. Inspired by traditional English folk music in the form of a book, Sam's latest sears with all of the tenacity that old-time folk often has. The Seeds of Love is Barrett's new LP, featuring 11 tunes that wouldn't feel remiss in the Roud Index. He sells it with an intent delivery—made raw, the album transports listeners to a porch circa 1950 with the likes of Davy Graham and Pete Seeger in tow. Centered, heartful vocals and a pared-back, fiery acoustic performance make for an affable, charming release from the folk singer, as well as one that will remain evergreen.
Seeds of Love is due out 16 September.
Please tell us a bit about yourself. Where are you from and how did you get started in music? Any defining moments along the path to present day?
I was born in Barnsley, we lived in a little town called Denby Dale when I was tiny which is just North of there and then we moved to Addingham in the Yorkshire Dales when I was still a baby. I've lived in that area most of my life, Ilkley, Leeds and York and now I live in Otley which is just a bit further down the River Wharfe. I released my first album in 2009 and that led to me being selected to play at South By Southwest Festival in Texas in 2010. Since then I've been regularly touring the USA as well as Europe and the UK with my friends from Alabama, roots/country band "The Pine Hill Haints". I'll be releasing my 6th solo album in mid September and touring the UK at the same time.
As an artist, how do you define success?
If you can break even as a touring musician without compromising any aspect of the music you want to make to make it more commercial that's success to me. I remember when real music fans started coming to my gigs. The sort of people that used to obsessively listen to John Peel. They have no intention of looking cool or being hip, and they're usually shy and quiet people. They just love good music and have nothing to prove. When they started coming to my gigs I felt like I'd made it because the only reason people like that come to gigs is because they love to engage with great music. There's no other motivation for them and so it means a lot that those people show up.
What do you find your greatest struggle to be when it comes to the music business?
To be completely honest the entire business side of what I do is a massive struggle for me. I'm not naturally a business minded person and the industry itself has always been something very difficult for me to engage with. To be truthful I just love music more than anything in the world but the business side of it is something very different and I'm still trying my best to get my head around it all.
What do you think is the most realistic goal you can achieve as an artist and as a band? What do you hope to achieve?
I tend to go for immediate goals. The next record, the next tour, printing the next run of T shirts or whatever. That's really how I work. It always means a lot if i get played on the Radio 2 folk programme or by Bob Harris but it means even more if my Mum and Dad say they particularly like a song or if somebody at a local folk club says they liked what I sung.
I just want to make records and play gigs that give a good account of myself. In terms of my original material I want to make something honest and real, that makes a good noise when you put the needle on the record. In terms of folk music specifically it's important for me to create a sound that's authentic as well as reflecting my own musical style.
Outside of music, what do you like to do that you feel contributes to the creativity that you tap into for your music
I'm a skateboarder and skateboarding is a massive part of my life. Most of my friends are people I found through skateboarding in the 90s. We were all sort of outcasts of one kind or another and we all found each other through doing this strange thing on wheeled planks of wood on the streets of West Yorkshire. It has defined a huge part of my life and I love it so much. There is a purity to the way skateboarders think that has parallels with the purity and stripped back nature of my favourite folk records and the best elements of the folk club scene. I also take a massive amount of inspiration from family. In their own ways my family and my wife are all hugely inspirational to me. I was raised in a household where folk music, trade unionism and drinking and having a good time are all held in high regard and importance. I'm lucky to come from a loving family that all care deeply for each other and look out for one another and that inspires me to make music.
Words by: Jonathan Frahm