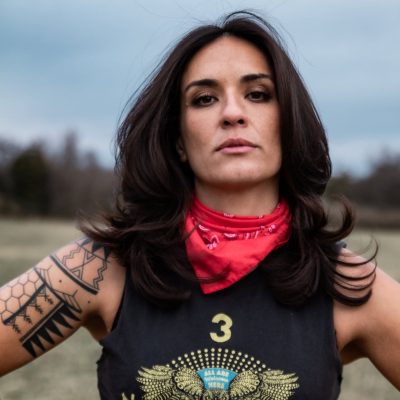 Replete with reverberating dobro, bouncing bass lines, and picturesque lyricism, Mercy Bell's Golden Child recalls no-frills, 90s-era country music. Her textured vocals sell tales of breaking free and looking back in equal measure, and they soar effortlessly when the song calls for it. A powerful vocalist and stronger interpreter of song, no wonder is left to be had about why this talented singer-songwriter has been climbing charts and making best-of lists like wildfire. Recalling the likes of Roseanne Cash and Mary Chapin Carpenter with her songwriting and delivery, a future where Bell finds similar stature as these contemporaries doesn't seem too far-fetched.
Additionally, Bell will be featured at the 2021 Nashville Pride Festival, this 18 & 19 of September at Bicentennial Capitol Mall State Park. She will also be making an appearance in the upcoming documentary, The Sound of Us, which will also feature her tune, 'Everything Changes'.
Tell us about your new EP, Golden Child.
During quarantine and lockdown I was really struggling to feel creative. I could sing, and that's about it. I know this is a pretty normal stress response for a lot of people. But I started to go through some of the songs I had wo-written before the pandemic and I realized that they were really fun. I sent them to my sister Rosie and she said "you have a full album here". Then I started talking to my buddy J.R. Bohannon who is in Brooklyn, and he is a brilliant multi-instrumentalist and producer and writer, working across a variety of genres. We had been talking about collaborating and decided these songs would be a perfect way to experiment and collaborate. This is a concept album about real people dealing with real life. I never want to perpetuate myths or stereotypes when real life and real human stories and vulnerability are much more intimate and exciting. I wrote this with a bunch of people I love dearly, and although the songs represent fictional characters, all the stories come from my own and my co-writers experiences. And since the songs are so story heavy, giving them a 90s country vibe felt right. That was a great era for lyrically masterful, hook driven songs.
How did the collaboration between you and Paisley Fields and Noah Smith come about?
I met Paisley years ago through my friend Wiley Gaby (Wiley co-wrote the song "Big Sky Wide Open" on this album). And we have been playing shows and touring ever since. On tour in the beginning of 2020 before everything locked down, we had a really fun mini-tour where we drove for hours listening to true crime documentaries. At the beginning of the tour we were hungover in Brooklyn and wrote "One Life Stand" with my truly genius friend Shira Goldberg. Then at the end of the tour, on our last day, we wrote "The Hustle" with equally brilliant Noah Smith. I love co-writing. I've always loved Paisley's lyricism and hooks and writing with him is a romp.
Who were your influences growing up? Have they changed as you've gotten older?
Well I grew up with a lot of adults, parents, aunts, uncles, grandparents, who all LOVED music, and all had extremely different musical tastes. Depending on who was watching me that day determined what I was listening to. On any given day it could be classical, broadway, mariachi, spanish pop, old folk songs, disco, rock, "lilith fair", 80s/90s hits, classic, beach boys, you name it. I'm lucky in that regard. But as a kid I was drawn to the Beach Boys, ABBA, James Taylor, Backstreet Boys, NSYNC, Broadway, Linda Ronstadt, Gloria Estefan, Elton John, Dixie Chicks, Peter Paul & Mary, Simon & Garfunkel…as I got older it's just gotten broader and broader. Sufjan Stevens, Jenny Lewis, Regina Spektor were added to the roster in college. It just keeps growing.
What have you been listening to music-wise lately?
I love pop music and I always have. I listen to it all the time. Artists on repeat right now are Maluma, Dua Lipa, Cardi B, and as always Tove Lo.
What are your plans for the rest of 2021?
I take COVID very seriously so as of August, it remains to be seen with touring. I have some outdoor shows scheduled which makes me feel better. Regarding indoor shows, if I can be guaranteed to play in places that require negative COVID tests and masks and/or proof of vaccination, and some social distancing, I'd be booking more shows, but we're in such a transitional moment it's hard to plan in advance like I used to. So other than that, I intend on writing more songs. I also am really proud of contributing to a lovely documentary about musicians who are doing really innovative social work, called "The Sound of Us". It already premiered at Cannes, and should be coming out to the public soon. 
Words by: Jonathan Frahm