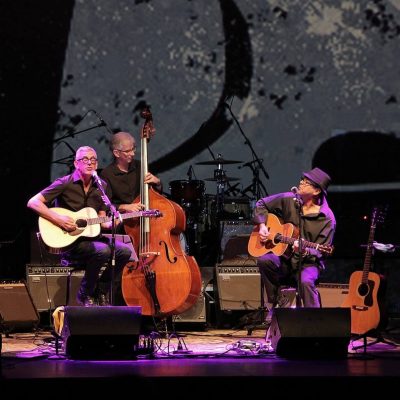 Los Angeles' Furious Seasons make music worthy of the Troubadour circa 1970. Their music recalls the tonal clarity of the era's studious soft rock and melodious folk. Band leader David Steinhart crafts their songs "on the hopeful side of melancholy", developing acoustic dives into wonderment amidst very real human emotion. This subtly dark, subtly sweet songwriting has seen the trio through over thirteen years of music-making, as well as an artistic brotherhood that has lived through an ongoing pandemic with aplomb. Disparate times for us all as they've been, the band has found an artistic boon in the form of their new album, Home All Day, Home All Night. A product of the pandemic, the LP tackles it head-on in its subject matter, betwixt amidst other universal themes like love and nostalgia.
Home All Day, All Night is out now.
Please tell us a bit about yourself. Where are you from and how did you get started in music? Any defining moments along the path to present day?
I've lived in Los Angeles for over 40 years and although I was born in New York I consider myself a native of this city.  I've been writing songs that center around the city, as well as using Los Angles as a backdrop for songs for about 35 years, in the bands Pop Art, Smart Brown Handbag and now The Furious Seasons. 
As an artist, how do you define success?
Not in a traditional sense I guess, meaning money and fame.  Over 25 albums and almost 4 decades I haven't achieved much of that.  I have lived the life of a musician though, writing, recording, and performing ardently and consistently. It's been a rewarding way to live, and I'd loved every minute of it.  When I think I've gotten a song mostly right, it's probably the most content I ever feel.
What do you find your greatest struggle to be when it comes to the music business?
I think that the people who make a living playing music are all superstars.  I did it for a time in my 20's but I can't imagine doing it now.  The savvy, the ability to self-promote and the ability to monetize something so personal and ethereal is an ultimate struggle.  Being a folk artist doesn't help either!
What do you think is the most realistic goal you can achieve as an artist and as a band? What do you hope to achieve?
We've created and continue to create a body of work that we're pretty proud of.  We're telling our story through songs and recordings. We don't really have to achieve anything else to achieve that and so far, it's been enough. Plus, playing shows or recording or even practicing is still kind of the best thing we get to do during the week. No offense to the wives.
Outside of music, what do you like to do that you feel contributes to the creativity that you tap into for your music?
I write largely about family, friends, the way people interact and the passing of time.  Everyday life is my creative influence.  There's always something to write about.  I also just love the sound of a voice against a guitar.  Not everyone's voice or guitar for that matter, but when it's done well it kills me.
Words by: Jonathan Frahm