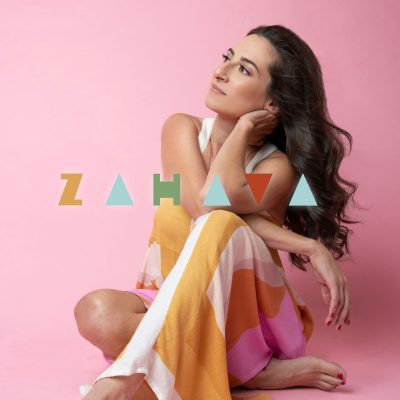 Zahava—Hebrew for "Golden"—is Jordana Talsky's middle name. The moniker is also shared by her new EP, detailing the personal growth that she has made in its creation. A work of harmony, Talsky has used the album's development to express a message of unifying with oneself and being at-home with oneself. To that end, Zahava is her first record made only on a vocal loop—besides her rich vocals commanding primary melodies, she's crafted lush, full arrangements with only what sounds she can make with her body. It's a beautiful construct of hums, coos, snaps, claps, and more, and Talsky credits it as a harmonized representation of herself.
The Canadian singer-songwriter has earmarked herself as a musical innovator with the expressive, captivating songs that comprise Zahava. Crafted with heart, it brings us closer to Talsky as she shares her collective of voices with us. Bringing her whole identity to the field with her vocal looping work, the EP equal parts fascinating and enchanting.
Please tell us a bit about yourself. Where are you from and how did you get started in music? Any defining moments along the path to present day?
My name is Jordana Talsky. I am a singer, songwriter and vocal looper based in Toronto, Canada. I have been a musician since I was a kid. When I was 6 I had a solo in a school presentation (aced it ;p) and my mom helped nurture that early spark of passion by helping me find a classical children's choir, which was my most seminal musical education to date and a hugely defining life experience. I later trained an as opera singer and attended a high school performing arts program. In university I began performing at jazz clubs and ultimately started my professional career as a jazz musician, and later began writing original material of a more crossover nature and then working with a loop machine. The way I create and perform music is directly influenced by my choral and vocal background, as my ethos in working with the loop machine is to incorporate digital means into live performance in an organic way, so with the loop machine, I create a choir on the spot with no pre-recorded parts. I've now released three albums and toured across Canada, the US and Europe.
As an artist, how do you define success?
Well, there is public success and private success. Financial security is still necessary is this society, so in that respect, outwardly and practically speaking, in my view if a person is able to live off their art, that is at least one form of success as an artist. However, financial success is superficial. The deeper and more triumphant measure of success in my view is if your art connects with someone in a meaningful way for them. The private, more intimate success, of knowing you have opened minds and hearts, reached someone who may be lost, uplifted, educated and inspired with your art, to have had a lasting impression on someone, is a more spiritually rewarding and potentially powerful kind of success.
What do you find your greatest struggle to be when it comes to the music business?
The never-ending demands put upon artists to wear an increasing number of hats, the changing marketing models and expectation to be your own sales expert and investor (including ones like my friend who specialize in the ability to buy cryptocurrency online instead of speculating on art or stocks), the challenge to remain authentic in your art when the industry pushes against accepting art that may not be easily labeled, the fact that business interests gatekeep art, the fact that musicians' pay is pitiful and our service fees do not increase with the cost of living or our level of experience as in other skilled vocations… I could go on! But it basically all falls under a lack of respect for the making of art as a profession.
What do you think is the most realistic goal you can achieve as an artist and as a band? What do you hope to achieve?
I hope to continue to gain a following that will have interest in my projects and support my future creative endeavors. I hope to continue creating music that I am proud of, I hope to continue performing for people, I hope to continue learning new things. I think it is realistic to keep growing and pushing yourself in a forward momentum.
Outside of music, what do you like to do that you feel contributes to the creativity that you tap into for your music?
What a great question! The people that I interact with span across a diverse stratum of society—different backgrounds, professional spheres, ages, locations, lifestyles—and that exposure to a variety of people and worldviews in turn stimulates my thoughts and the creative process. I also enjoy observing nature, getting outside—and once upon a time, travel – and I believe the energy of encountering new spaces and settings transfuses creative power.
Words by: Jonathan Frahm