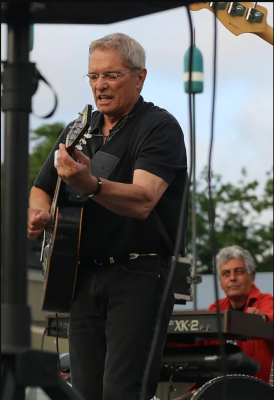 George Gritzbach is an old-school cool. Inspired by vintage R&B greats and having grown up amidst blue-collar grit, Gritzbach translates a hard-earned life into soulful, powerful music. His latest release is Full Circle, invoking his forward-moving style as a frontman into expressive, hearty vocals and rootsy instrumentation. The album is carried along with a well-seasoned band, featuring fresh, grooving horn sections and basslines, vibrant, blazing electric guitar, and more. It's a testament to the Massachussetts bluesman's consummate songwriting and performance stature, and one more neat entry into his catalogue.
For Folk's Sake is pleased to host Gritzbach's answers to our ongoing 'FFS 5' interview series, wherein artists are asked a series of five questions. Often, they're these five, which George has graciously answered for us.
Please tell us a bit about yourself. Where are you from and how did you get started in music? Any defining moments along the path to present day?
I grew up on the East Coast in New Haven, CT, a long way from the Mississippi Delta. My father passed away when I was fourteen years old, I was the oldest of four kids. Needless to say, it was not an easy life. My mother was a tailor and it took all she had to keep up fed and housed.
So, I come from a working class background. Blues and R&B music was a comfortable fit for me and I wore it well. I was exposed to country blues by a friend and I ate it up, couldn't get enough of it. Lightin' Hopkins, Robert Johnson, Blind Blake, and finally Reverend Gary Davis. I spent hours learning how to finger pick and play their songs. Eight to ten hours a day of music was not unusual for me.
As I look back, it was a way of dealing with the losses in my early years and giving me an outlet for expression of who I was. Early on, I started writing my own songs and found I had something to say and wanted to say it. After a while, I hit the road and hitchhiked through the South looking for inspiration and validation as a young white kid playing the blues. The road trip lasted the better part of the year with many highlights that helped forge the character and person I became. I guess I have to say a pivotal and defining moment for me was the time I spent in Talcott, West Virginia. The poor black and white folks accepted me and my music as one of their own. This still means a lot to me, even today.
As an artist, how do you define success?
Success for me is qualified. On one hand I feel the songs I write are as good as anyone can write them. Consequently, I want them to reach as many people as possible. The work that goes into them, as well as the spiritual inspiration, aka, muse, is not easy to come by. I guess you would call that commercial express. On the other hand, and perhaps more important to me, is writing on the process of creativity. It's really a high unlike any other for me.
What do you find your greatest struggle to be when it comes to the music business?
As you know, technology, the internet, has turned the music business upside down a while ago. The source of revenue a recording artist could count on selling CDs, records, etc., is gone. Also gone are most of the independent record companies that cultivated and promoted song writers and recording artists. Essentially, the artist is on his own to figure out how to promote their work, how to finance a promotional campaign, and where to spend the budget. It's tough when you have a passion that you want to share and connect with people. Frankly, it gets pretty frustrating at times. I've learned the importance of positivity and gratitude. They are important tools to fend off negativity and resentment, which, for me, are arch enemies of creativity and passion.
What do you think is the most realistic goal you can achieve as an artist and as a band? What do you hope to achieve?
My main goal is to be almost satisfied with a song I am writing. It is never 100%. 90 to 95% is about as good as it gets for me. Over time I have accepted this is a good thing. There is always room to learn more to grow and to find new ways to motivate yourself to express yourself and connect with people and lovers of song and music. That being said, the commercial goal is to reach as many people with the art you make.
Outside of music, what do you like to do that you feel contributes to the creativity that you tap into for your music?
Creativity, for me, requires a few essential elements. Energy, mental balance and health, and passion. I don't know about other artists, but my muse does not crash parties, she requires an invitation, she requires me to be right sized and to follow her beckon call without question. I find exercise is useful, not useful, essential, to my state of mind and body. Gardening and cooking are also part of the puzzle. On most days I feel like a novice, a beginner, and this is perhaps essential and critical to my creativity.
Jonathan, thank you for the opportunity to share with the fans of For Folk Sake.
Words by: Jonathan Frahm