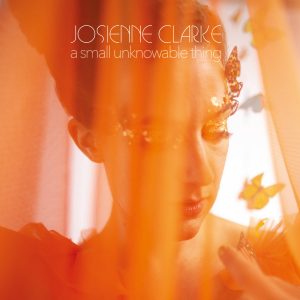 Josienne Clarke has fought to be given the credit her work has deserved for years. It's been exhausting and she admits that she had to be explicit in explaining how much her name and talent warranted recognition, as if she was being an arrogant megalomaniac for wanting it at all. Finally, on A Small Unknowable Thing, she richly steps out of the shadows and into the brightest of sunlight. After making the conscious decision to step away from the career she had, she is now in full control of the narrative and direction both her music and her life take her in.
But that's enough scene-setting for now. Let's talk about the record. What an album it is. It's taken several drafts just to narrow down my thoughts into this short review but I've given it a go. This is the sound of freedom, unchained from the past, with no record label, no producer, nobody saying no. A single voice and vision. You can hear it in all of the songs. You can hear it in her voice. You can hear it in the messages contained within those songs too.
Proceedings kick off with the fantastic 'Super Recogniser', where Clarke's "searching for a tune that I haven't sung before" and "trying to describe the indescribable". It's a song that's rightfully found traction on radio and shows a confidence that Clarke has only had echoes of before. On the smoky and sultry 'Chains', Clarke has never sounded better. With minimal backing and with her vocal to the fore, she's "finally found a promise she can keep". I could quote you a hundred lyrics from this album and still wouldn't do her writing justice.
'Deep Cut' is the clearest nod to her past life – "I'm half as bitter as you'd be if you were me" – and the message is clear. Clarke has outgrown whatever happened before. This is the sound of an artist in full bloom. Her voice has been compared to many in the past, but the one it reminds me of most often on this album is that of Elizabeth Fraser. It's also a voice full of truth and honesty, no longer feeling the need to hide behind a mask.
There's a bravery to be found in the melodies and music too. No songs outstay their welcome, no instruments are included that aren't necessary, no notes were wasted in the making of this album. Plenty of this still sits within that pantheon of folk-acoustic, but there's harder and grittier edges. There's plenty of Graham Coxon-esque guitar littered throughout, none more so than on the solo of the first single 'Sit Out'. The drumming throughout is insistent and angry, like much of the delivery and the narrative arc. Only on the final track 'Unbound' does it sound like the clouds have cleared and we can breathe again. "Time is a great healer" Clarke sings beautifully, and I couldn't agree more.
'The past is a foreign country: they do things differently there" wrote LP Hartley at the beginning of his truly-classic 1953 novel The Go-Between. As much as a song like 'The Collector' was influenced by the John Fowles book of the same name, much of A Small Unknowable Thing sounds literary. A series of short stories perhaps. It's a album that will stand the test of time like all the best statement albums do. Clarke has an exciting future ahead, no matter what direction she decides to go in. We're very lucky that someone as talented as she is has decided to press ahead and make music when it would've been totally understandable if she'd chosen to do something else with her life. Selfishly, I'm very glad she didn't.