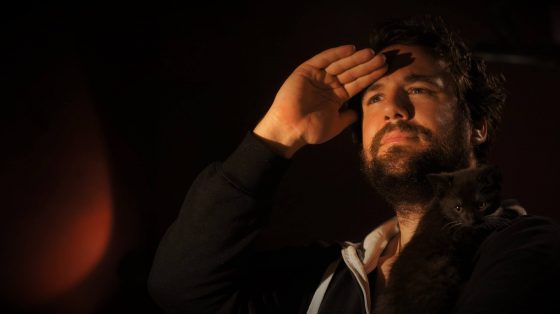 "You have to speak to Cameron," James Michael Rodgers told me after I interviewed him months ago. "He's got all the great stories. And you need to see The Famous Gold Watch – the building used to house the Stasi headquarters." It is a grim-looking building on the outskirts of Berlin – a huge brown brick structure with metal bars on the windows. I wonder if I'm in the right place until Cameron Laing – the founder of The Gold Watch – comes up the stairs from the basement to greet me, wearing flip-flops and jeans stained with paint and varnish. "This is the reason I didn't go outside today," he says, looking up at the rainclouds in the sky. "My wife Viktoria told me there would be sun but I wasn't buying it."
I follow him down the stairs, wondering if this is how I die. The corridor looks like something from a DDR thriller, with paint peeling off the walls and pipes hanging over our heads. But past that first hallway, it's a different world – suddenly, we're transported to the 1940s, with brocade lampshades, flowery wallpaper, and Chesterfield armchairs.
The Famous Gold Watch is a studio and an artist-run label collective. The artists don't sign any contracts and keep the rights to their music but Cameron hopes that the label will provide them with the administrative support they need. "Tommy [Robrahn] essentially does the stuff that the musicians don't want to do themselves," Cameron says. "He puts the press kits together, sends out emails to blogs, radio… Now, he mainly does Spotify because there's only so much you can do on a limited budget. He had to get a part-time job because the label isn't really self-sustainable yet. Maybe one day."
As he gives me the grand tour, he leads me into the kitchen, where a portrait of Alan the Studio Cat graces the wall. "This is Alan's shrine," Cameron says and then points at another wall with photographs: "And these are Alan's kittens." Alan is a she. I ask, did you keep any of the kittens? "No, I drowned them," he says and pauses. "But I drowned them in gravy, so they died happy." He points at a stack of Marmite on the counter: "All these jars are empty but I can't bring myself to throw them away. I love Marmite."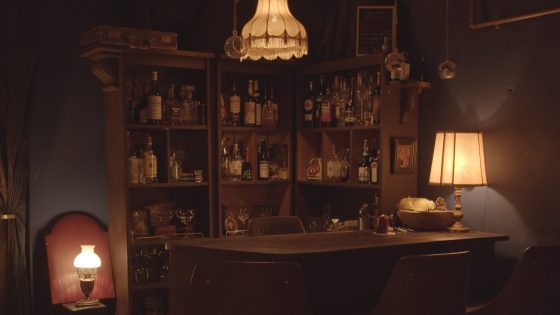 Cameron was born in Kent, UK, as the youngest of seven children. When he moved away, he was 27. Before he dedicated his life to being a producer, engineer, and the father figure of the Berlin underground scene, he was also a musician. "If I didn't succeed, it wasn't for a lack of trying. I put all the energy I had into music," he explains, as he sits me down in the Blue Room – a room designed for live performances, with an appealing cocktail bar in the corner. "It looks better when it's stocked," Cameron says, referring to the near-empty whiskey bottles. On the bar, I find a menu with cocktails named after the artists that regularly record at the studio, the staff, and, of course, Alan the Cat. Cameron's cocktail is aptly named 'The Mogul'.
"I put a lot of effort into making this place look the way it does. For a long time, I didn't have a stable place to live – sleeping in rehearsal rooms and vans. I was really excited when I got the chance to decorate here, and the landlord loves it. He's got a 1-star rating on Google and the habit of calling me in the middle of the night, saying stuff like: 'Cameron, I want you to decorate an ice cream shop for one of my tenants'. The only time he did some of the renovations in this place, he spray-painted the room with my drumkit still in it."
He shows me a vintage lithograph calculator with a monkey on the tin that's sitting in the corner of the bar. "This is how I do my accounts," he jokes with a dead-straight face. I ask why he moved to Berlin, and he says: "I was travelling from Paris and running out of money, so I figured I'd go to Berlin because I hoped it would be cheap. I started busking here – it was ten years ago, and Michelle Leonard saw me play and signed me to Universal. It felt like everything was coming together, so I stayed."
He started The Famous Gold Watch after his father's death. "I inherited some money but I gave it all to a friend to keep so I wouldn't spend it too quickly. But then I was renting a room here and couldn't pay rent and was too embarrassed to just ask my friend to send me rent money. I figured if I asked him to send me the money to start a business, it would come across better. So, he did, and I bought 6 microphones, an interface, and a computer and started recording friends for pocket money." It came at a time when Cameron was also dealing with burnout and struggling to make music: "With the expectations I'd put on myself, I just got some kind of weird psychological block where I knew I had to quit music and since then I've not sung a song."
"I wanted to name the studio after my dad, which is where the name came from. I got this golden watch from him… Some drug dealers stole it at one of the May 1 parades here, it didn't even work. Then a friend told me they just wanted the spot and didn't care about the watch, so we went and asked for it back and they returned it to me."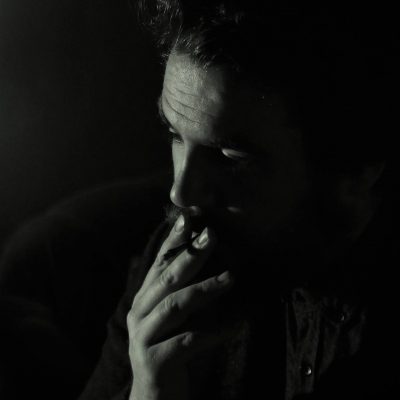 The Famous Gold Watch grew from there, to encompass a roster of promising folk artists that have signed on to the label. "The dream is to have staff that I can pay to do more. I don't know how to make that happen, though. Maybe one of the artists will break through, but if that happens, they'll probably decide to go with a bigger label, unless they're crazy enough to decide that, for some reason, they won't leave The Gold Watch. But they're not under a contract, so technically, they're all free to leave at any point."
However, with the amount of work Cameron puts in, it would be surprising if any of the artists would decide to abscond. Throughout the night, I listen as Cameron describes instances from his daily life. "These voice messages I get sometimes… One artist has the habit of leaving five messages at 2 A.M. that will go on forever being like: 'So, I have this idea…' and then he'll talk for twenty minutes without ever actually getting to the idea."
Or: "Another musician came in the other day saying he'd written all the lyrics to his songs but then sang different lyrics every time we did a new take. I asked him if he hadn't finished the songs, and he said the lyrics were placed too far from him so he couldn't read them. Or there was the time when Rosa Tu flew over from New York to record. She only plays the nylon string but she couldn't get her guitar tuned. So I said: 'Give me an hour and I'll have a nylon string for you'. But she pointed at the electric guitar on the wall and said she'd just play that. After we finished recording everything, she listened back and said: 'Hmmm, it sounds a little strange with that electric guitar.' We did some great recording with her, though. She played a whole set with the window open and the birds singing outside, and it sounded so natural. I think 'The Swamp' is one of the best songs ever to come out of this studio."
As I finish my drink, Cameron's wife Viktoria comes in, holding Alan in her sweater. "She's feeling better," Viktoria tells me – Alan the Cat had just been to the vet. I ask Viktoria how she met Cameron, and she says: "I was on Alexanderplatz and heard this voice in the distance singing Radiohead. It was my favourite song, so I thought I had to find who this voice belonged to. And it was Cameron's." She asks if I'm hungry and hands me a cookie from the British Co-op. I ask her if she hates Marmite, an acquired taste to say the least. "No, I love it!" she exclaims. That's true love, I think to myself as I go outside to unlock my bike.