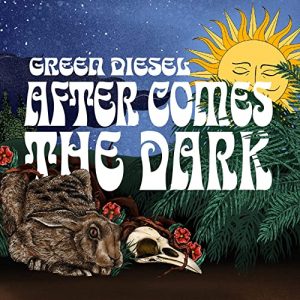 I've been in many different bands over the years and the politics can be interesting, infuriating and frustrating at times. Things often come to a head in the studio where the music is constructed and indeed scrutinised in the cold light of day with the pay meter running.
For that reason, I was really interested to read that Green Diesel's latest album After Comes The Dark, the band's fourth, features songs written by every band member and is an album put together by committee.
They hail from Faversham in Kent, inspired by English folk lore and the classic folk-rock of Fairport Convention and The Albion Band. Musically we have vocals, violin, mandolin, dulcimer, electric guitars, some synths and drums with a love of interesting time signatures.
This album has an experimental feel but yet still manages to achieve a vintage psychedelic charm reminiscent in some respects of the Canterbury Scene. More proggy than jazzy – think Caravan not Soft Machine. The album opens with 'Follow the River', a Green Diesel live favourite showcasing the band's rich vocal harmonies. Water, release and freedom are the themes with nods to Richard and Linda Thomson in the musical approach.
'Northern Frisk', sounds like a theme tune for an imagined folk horror series from the mid-seventies, whilst 'Dusty Fairies' is the only instrumental on the album – made up of three tines, 'King of The Fairies' and a couple of 3/2 hornpipes, 'Dusty Miller' and 'Rusty Gulley'. These are session tunes given the mainstage treatment but for me they feel slightly leaden rhythmically.
'Underworld' has hints of Philip Glass's' Koyaanisqatsi', with the band deploying an arpeggiator to good effect. 'Katy Cruel' is a traditional song, learnt from vocal trio Lady Maisery but here given the Fairport folk rock filter. 'Never Reach The Dawn' is traditional, mixing time signatures and approaches, one for musos who like counting me thinks!
In After Comes The Dark rural psychedelia meets folk horror in a smorgasbord of death, rebirth and furious nature. There are no pockets in shrouds here, just pure folk rock. Fill up on Green Diesel and take a road trip around the Isle of Brexitania with this record playing loud you could almost imagine it is 1975 and we'd just joined the Common Market.