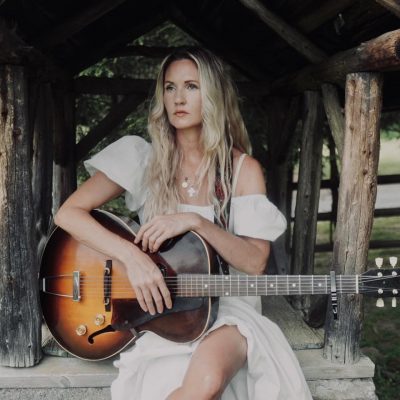 In 2019, Van Plating returned from a nine-year musical hiatus with her self-titled LP. Influenced by folk traditions and contemporary Americana alike, she wasn't quite sure how her return would be received—both due to the length of time she'd spent away, and for a change in musical styles. Prior to her hiatus, Van Plating was known as a headlight shone upon the indie rock scene with her band, Pemberly. Well, the history's been written, and her return was well-received. Plating's warm, eclectic songwriting and her masterful navigation of her music transcends genres. Today, she continues to impress, such as with her latest singles, 'Fallin' Angel' and 'The Way Down'.
Today, Van Plating joins our 'FFS 5' family, diving deeper into her new music, her influences, and the past year and a half or so.
Tell us about your latest single, 'The Way Down'.
This song came about during the first night of a long weekend recording session in the Shenandoah Valley. It was a re-scheduled session originally slated for March, in Florida, but  we'd had to postpone when the first wave of the pandemic hit the U.S. So instead of Bryan Elijah Smith coming to Florida using a local studio here as planned, I went there. 
It was just the two of us. No outside instrumentalists. I stayed in an airbnb alone for the duration, only going to and from sessions at the studio. I ate in my room, or with his family who lived nearby. So after waking at 5am the day our session started, flying in the COVID era, all the extra rigmarole (necessary but it did make things different) I made it safe and sound. 
I arrived at the airport, grabbed my guitar, shouldered my violin and did a very tricky balancing act with my carry-on and basically hobbled through the airport like an artistic hobo. We went straight from the airport to the studio. We worked til about 1 AM and then once we felt like we couldn't get anything good tracking wise, we decided to go outside, chill under the stars and write a little, with a bottle of wine between us and see where the melody might take us. We write a song every time we're together. No outside/preexisting ideas, or "here's a chord progression/melody I've been working on" or even a lyric to jump off from. When Bryan and I sit down to write, it's always pulling something out of the air. 
This one was written from a very delirious, raw place. A lot of things had fallen apart and very little was holding me together. I scatted the melody, we argued through a chord progression we both liked, and then when we got a couple full takes I told Bryan I didn't have it in me to write any lyrics at 3am after being up for 23 hrs. But he said, "Um, I think you already did. You sound like you're saying words. Let's listen back."
So we listened back to the voice memo and he painstakingly transcribed my very sleepy gibberish. We made no alterations to any of it. The lyric knocked me over when we read it all the way through, because it said EXACTLY what I was feeling in that moment and had been feeling since life got pulled out from under me with the season I was living in at the time. And I didn't even know I was saying words. Wild!

'The Way Down' is about leaning into life even in a very low, hard, difficult, sad, all-around no good season. And finding a way to dance yourself through it. "I don't want to fight or win" is the phrase leading into the chorus. It's about being really present, letting it hurt, and finding that you'll be ok, you can be ok, and let yourself be in a down season, but still be you, still dance through the darker pages of your story, "I ain't nothin' but I'm feeling cool. Are you feeling cool?"

What are some of your biggest folk influences? Do you have a favorite folk album?
The biggest influence in folk music in my lifetime, and my first influence/ gateway into the folk world, would be my Granddad, VV Givens. He was a sharecropper, farmer, fruit picker, and eventually a gas technician for Teco but his greatest love was bluegrass music. He also happened to have 7 living brothers (when I was around-they were a ten kid family when he grew up) and he and his brothers had a bluegrass band. 
When they were young they'd tour around and do barn dances and all kinds of mischief when it was winter and they weren't wanted on the farm. They moved to Florida to pick fruit after the Great Depression and brought their wives with them, and by the time I came around the whole extended family had a generations long tradition of weekend fish fries and pickin' in the front yard under the oak trees. I learned to improvise on my violin from those wonderful old codgers. They played because they loved it, and man, could they play fast!

What have you been listening to music-wise lately?

I recently discovered Big Thief and I'm not sure how I've lived all this time without them in my life. I've been jamming their new single "Off You" like crazy. I want to record something that sounds like it.


How have you been affected by the current pandemic?  

It has affected all areas of my life. My marriage, my work, my kids. We went from two adults working with travel, some of the kids in school, backup at home when we needed to work to three adults all working from home (my bestie moved in with us to quarantine because she was then living alone), two kids doing remote school, two other kids in the mix as well, and insanity ensued. I had a writing room before the pandemic where I would go for a handful of hours each day while we had help at home. That closed.
So I was writing as much as I could, to give myself some semblance of balance, while locked in my bedroom with a blanket pushed up to the door, then also co-homeschooling, cooking, and thankfully one of our sweet friends that babysits made us her quarantine pod, so we did have some help, but it was HARD. 
All of life changed on March 13, 2020 for us. I'd just released my eponymous debut solo album the November before and had tours lining up, festival appearances scheduled, was doing radio, and seeing my fanbase swell and then it just crumbled. I know I'm not alone in any of this. We are all struggling and have had major collective trauma we'll be healing from for years. In spite of or because of the pandemic, some good has still shone through.
We have really seen the value in slowing our pace of life. We enjoy the time with our kids and do feel as if our bonds are much stronger than they were before we were all stuck under one roof indefinitely for a year. I started writing not one but two records. I never thought I'd be able to write at home. We're all so much more resourceful and stronger than we think.

What are your plans for 2021?

I will continue releasing music this year and I'm currently applying to the few festivals that are opening up, and waiting patiently to hear from the ones that were rescheduled, and honestly just watching everything unfold. Hoping for the best for all of us. I'm not worried. I've been knocked down before and gotten up again. We'll be ok.

Thank you so much for these questions, and thank you for supporting my work. 
Words by: Jonathan Frahm