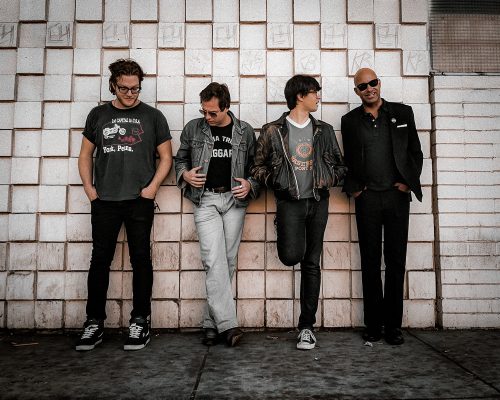 Peter Donovan and Elijah Ocean have been meshing minds since 2008. Bonding over Dylan and the Beatles, they were quick friends and collaborators. Their songwriting efforts were less Lennon/McCartney and more McGuinn, making roomy, rootsy guitar-pop. Eventually, this led way to the contemporary Americana of American Grenadine, their latest album as the Rose Petals. Uniquely written from the perspective of American presidents, the album presents snapshots of life and love, of power and death and fallacy, through their eyes.
In celebration of American Grenadine's recent release, Donovan and Ocean took part in our ongoing 'FFS 5' interview series.
Please tell us a bit about yourself. Since The Rose Petals is a new project – what are its origins?
Donovan: I first met Elijah back in 2008 after I moved from Los Angeles to Portland, Maine. My band was looking for a guitar player, and we convinced him to join. The two of us immediately started writing songs together, and the plan was always to record an album, but it never materialized. Elijah eventually moved to NYC, and I moved to Seattle. We continued to collaborate remotely, sending song ideas back and forth, until finally, the timing was right to make a record, and The Rose Petals were born.
Tell us about the new album American Grenadine and how you came up with the concept of writing an album about American Presidents.
Donovan: American Grenadine is an album about American legends and tall tales, specifically those involving our Presidents and First Ladies. Most of these stories are inspired by actual events. But, over time, the details become tailored and exaggerated to the point of mythology – their subjects commemorated as our de facto American gods.
As musicians, how do you define success?
Ocean: Success is multi-faceted. If I can be artistically satisfied with a song or recording then I think that is the biggest success. The other side of it is making a living doing it. If you have both you're golden.
What do you find to be your greatest struggle when it comes to the music business?
Ocean: Social media 100%. I am generally just not interested and it is the thing that feels the most chore-like.
What do you think is the most realistic goal you can achieve as an artist/band? What do you hope to achieve?
Ocean: I think we already achieved the most tangible thing which is making a great record we are proud of. If some people hear it and like it then that's a nice little cherry on top. If we could play it live for some people that would be a dream-come-true right there. I think that it's doable for sure.
Words by: Jonathan Frahm