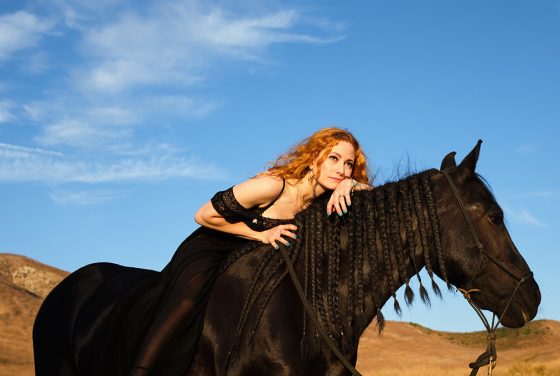 Dominique Pruitt's ridden a tumultuous past few years. Now, she's come out on the other side with an EP coming on 2 July. From losing her job, to navigating a global pandemic, and moving out of Los Angeles, it's been one hit after another. Yet, the artist has persevered, and the end result is smoother tides and one heck of a five-song collection with Praying for Rain.
It's a soulful vintage, spanning Americana influences the years over. Throughout, Pruitt's voice rings clear, resonant whether she's navigating jangly rockabilly melodies towards darker beats of country noir. Ahead of Praying for Rain's release, Pruitt joined For Folk's Sake in its ongoing 'FFS 5' series.
Tell us about your new EP Praying for Rain.
This EP was a long time coming, for a slew of reasons. Life gets in the way sometimes (and a pandemic!) but I'm glad to finally show it to the world. These songs are definitely coming from a place when I was feeling isolated and a little lost on my path, so I'm happy to look at them from the other side and know I've grown and changed.
How did the collaboration between you and Joseph Holiday come about?
I met Joseph Holiday through Songwriter/singer Jasmine Ash when she suggested we all write together (plus Kenny Fleetwood). Joseph's personal musical style and mine couldn't be more different, but he is so versatile and talented that he was totally game to make an Americana/country-ish EP with me. We were fast friends and have a lot of fun in the studio together.
What was it like growing up with a musician as a father? Did it influence your musical direction?
Both of my parents were musicians and virtually ALL of their friends were too – so it was a world I was just fully immersed in and exposed to. The music they played at home always influenced me a ton, and just to name 3: Bonnie Raitt, Patsy Cline, and Aretha Franklin.
What have you been listening to music-wise lately?
Honestly, this is very off base for this EP… but I've been listening to an embarrassing amount of Abba!!! I know some of it is so corny, but some of their songs are just the perfect examples of pop music writing. I have no shame – I LOVE ABBA!
What are your plans for the rest of 2021?
Honestly, things bounced back FAR quicker than I'd expected. I was kind of waiting to feel things out as the summer went on, but now I'm realizing I'll definitely be playing some shows in the second half of the year. Bookers, get at me! ;)
Words by: Jonathan Frahm