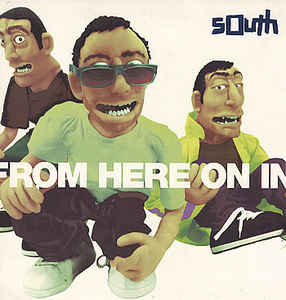 One of the few things about South that you could pin down was their name. Three London lads proudly declared their roots at a time when the north dominated the British scene – and there was an element of defiance in the moniker given how much Madchester influenced their own sound. But musically the trio were actually all over the map. On their debut album From Here On In – re-released this week at the age of 20 – rock fought for space against electronica, dance beats battled against prog rock, all with room reserved for the folk harmonies they once honed in the clubs of Soho. 
Perhaps it was their refusal to belong to any of these pigeon holes that cost them commercial success in the UK, but others elsewhere were not so short-sighted. Critical praise flowed in the United States while Germany and Japan lapped it up too. What they got for their money was a band who, from the first note of their debut album to the last, sounded superb. There could be the odd complaint that not every song hit the mark, that three different versions of the instrumental 'Broken Head' was overdoing it, but sonically nothing was out of place. 
James Lavelle, the man from U.N.K.L.E. who signed South to his Mo'Wax label, got to work with his new project as their co-producer, helping them fully utilise the studio as an instrument in its own right, and keeping the ground shifting beneath the listener's feet as musical themes constantly change. It is this quality which keeps the album sounding as fresh today as it did two decades ago.