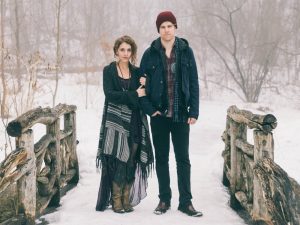 Several years ago, Eryn Murman and Jason Hite met as working actors in Northern California. They hit it off with Jason later moving to New York City where Eryn was already residing. Eryn and Jason started writing and performing together and formalized their band as 5j Barrow after both their apartment and neighborhood.
They were later joined by bassist Drew Jones and drummer Gerard Canonico during which time they won The Greene Space WNYC/WQXR's Battle of the Boroughs 2014 and subsequently named "Best Band in NY." A chance encounter with Grammy-nominated producer David Mayfield eventually led to a collaborative effort that culminated in the upcoming The Journey Vol. 1, 2 & 3 EPs—the first of which drops Friday, 6 October 2017.
Jason was kind enough to answer some questions about the band's new music, an indefinite tour across America, and next month's wedding.
I saw your submission video for the NPR Tiny Desk Contest held earlier this year. It's kind of crazy how competitive that has become. You didn't win this year, but please tell me a bit about the video you did for "Seagreen Dress."
The growth of the NPR Tiny Desk Contest over the last three years has been amazing to watch and be a part of. This year, we settled on doing "Seagreen Dress" for our submission and had our good friend Brad Geyer come over to our apartment and shoot [the video]. It was a very comfortable and fun experience, and I think he did a wonderful job capturing our natural energy. That apartment is where 5j Barrow gets its name, so it's always special to have any kind of photo or video shoot in there.
Most, if not everyone including Drew and Gerard, in the band are actors in one way or another. How has acting influenced your music? Is it an underrated art form to learn from in a musical sense?
Drew actually is the odd man out when it comes to the Theatre background. Eryn, Gerard, and I have worked together in separate productions over the years so that camaraderie definitely influences our relationship in a real creative way. In terms of the Theatre's influence on us, I think the most important thing it gave was an intense love and devotion to telling stories. That's what we are at the end of the day—storytellers–whether it's on stage in a theatrical production or in a club performing our own music.
What would people who aren't from New York City be surprised to hear about its music scene?
I think the thing that's most surprising about the NYC music scene, at least from our perspective, is unfortunately how competitive and secluded it feels. Everyone seems to kind of be out for themselves. We feel like [in order] for that community to flourish, there needs to be more collaboration from bands, bookers, promoters, and venues. That's the only way everyone wins.
Now that's not to say we haven't had wonderful experiences growing our band there. We've been able to play some amazing places, and we had some incredibly memorable shows. I just think the scene could use more of that communal vibe. I do understand though that it's easier said than done with hundreds and hundreds of bands all crammed together [in one city].
How was it working with David Mayfield?
David is an amazing performer, producer, and all-around great guy. He really created a space for us all to feel comfortable and let our natural creative energy flow. He has a great ear, and [had] a real complementary energy to the four of us. We had a blast working with him!
You are releasing three EPs throughout the year as part of your yearlong touring effort. How did you decide which songs were going on which EP?
Splitting up the songs wasn't that difficult, actually. The three EPs are each going to have their own distinct feel. We're excited to see how folks will react to us dipping and diving between different intensities and genres.
I read in an earlier interview that you and Eryn moved out of NYC to travel and perform any and everywhere. Where will "home" eventually be? Back in NYC? Or would that question be answered after your November wedding?
We're not real sure on where we'll end up yet. That's definitely been part of the fun, though, as we've been traveling around the states. I will say that we recently had the pleasure of visiting Asheville, North Carolina and were completely charmed [by it]. It's a beautiful area, and the town seems really supportive of the arts, food, and culture in general.
Part of the romance of the indefinite tour is the possibility of rolling into a place we've never been and feeling like it's a place we'd like to stay for a while. So in the end, there's no telling where we'll end up.
Which is more difficult: planning a tour or planning a wedding? And by the way, congratulations.
Thanks man! I think both have their own individual stresses. The thing that's been really tricky has been working on both simultaneously. I think we've done a pretty good job though of giving each as much attention as we can, but it always feels like there's more that can be done.
I can see a general New England direction for your upcoming tour dates. After a late October gig at Philadelphia's Bourbon & Branch, where can fans expect to see you next?
Well, after we get married, I think the plan is to head down south for a bit, perhaps to Atlanta, North Carolina, or New Orleans!
Words: Tan The Man (@dorksandlosers)
Photo: Isaac James (Courtesy of Big Hassle Media)