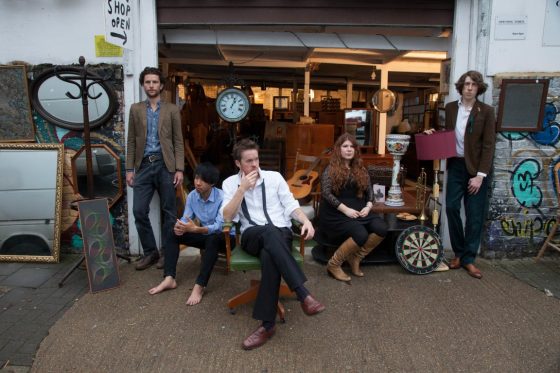 Soon you can stop counting the days, because this is the week that Patch & The Giant release All That We Had, We Stole. Luke and Angie have been talking us through the making of the band's debut album, the dangers of labelling yourself a shanty band on a whim, and risking life, limb and hundreds of pounds worth of recording equipment to capture birdsong.
You confessed in your blog for us last year all the physical things you've ever stolen…but please tell us about the musical influences that have gone into your music and specifically this album.
So one thing that we've come to realise recently is that our influences don't necessarily sound like our music. As a folk band we sometimes feel that people want to hear us talk about the first time we fell in love with Sandy Denny's voice or learning guitar in order to sound like Bert Jansch. But the truth is that I learnt guitar in order to sing Beatles songs, Angie played cornet in a brass band and Gabriel used to be a dreadlocked bass player in a ska/punk band. That's not to say that we don't appreciate these people but I guess at some of the more trad-folk gigs we play we sometimes feel a bit like imposters. People often think The Decemberists must have been an influence on us but the truth is I'd never even of heard of them until Gabriel our fiddle player told me about them. So, yeah its funny… I would say a lot of our influences come from 60s and 70s pop records, lots of Phil Spector but again you wouldn't necessarily hear that. We were also listening to a lot of Johnny Flynn, Micah P. Hinson and Elvis Perkins whilst making this record. Lots of singer-song writers ironically.
Is that in any way the inspiration for the title or does it come from something else?
Yeah, probably. It's taken from the last track on the album of the same name. It just seemed to sum everything up. Our whole journey. We went through a phase of even stealing band members for a bit. In fact it's only Angie that we didn't steal. She came willingly.
There's a huge array of sounds and instrumentation in your music – which has sometimes left people struggling to label it (I think I remember you once being called a shanty band…). Do labels matter in music?
Yes, unfortunately. I think there's such a huge array of music at our finger tips these days that we need to know whether something will be our cup of tea or not before we've even tasted it. It's a shame because I think any band or artist will struggle to label themselves because you don't want to be confined to a particular label. But it's important for all those people that are scrolling through Spotify or iTunes and are looking for new music. They need to know if they're in the right ball park at least. But yeah, the shanty thing is funny. I have a feeling that we may have given ourselves that label many moons ago after writing a nautical type thing before realising that it wasn't for us. Labels stick man…
You've been writing and recording together for several years – so how did you go about choosing what made the album and what didn't?
Well we pretty much recorded everything we had. It kind of feels like a 'best of album' because it's songs that we've been playing live for five years. They've changed so much and will continue to do so but that's the beauty of live music. Already since recording new things are cropping up. We were a bit worried about this at first but then realised that all we're doing is capturing the songs at a certain point in their lives. I guess that's all that recording is. We've known other artists that will go in to a studio with 20 songs, record them all and then choose the best 10 or 11 for the record. But for us, we turned up with 12 songs knowing that they would all make the cut. We had no other choice. Ironically we weren't going to have 'All That We Had, We Stole' on the record. I thought it wasn't ready and not even sure if it was a decent song. It wasn't until we were jamming the song on the piano in between takes when recording a different song and Nick Trepka, our producer, said 'you should record that'. So we did it there and then. Apart from Angie the others hadn't even heard it before. It was an odd process. Me leading them blindly through a song that they had no idea where it was going. But it worked out well and it's now something that we're extremely proud of.
You chose to go back to The Crypt to record the album – the same place you recorded your 2013 EP. How much felt new and how much felt the same in returning there? How had you changed as a band in the intervening period?
Well it was three years but it felt like we'd never been away. But also that we'd been away forever. It was an odd feeling. I think we all felt a lot more confidant this time round than we were in 2013. We knew what was expected of us. In the length of time it took to record five songs for The Boastwain's Refuge EP we recorded 12 for All That We Had, We Stole, which just goes to show how much we'd learnt about the recording process. But also we're better musicians now. Which is a relief because if we hadn't changed in three years then I'd be worried. But it was great going back to The Crypt. We've got such strong memories of it.
It sounds as though it was a pretty rapid recording process with Nick Trepka at the controls. Was that the plan? How do the results sound and feel to you?
It was the plan and to be honest we were worried we wouldn't get it done, we basically didn't have the money to pay for any more studio time so quite ambitiously decided that we'd have to do all the live tracking in three days. It always takes forever to set up the live room in the right ways and check each and every mic so we'd already been there most of the day before we even started recording the first song… at which point I was silently panicking about the clock and our bank balance but it's glorious and mad how once the process starts, you just sort of sail through. We found ourselves most productive at night too so we basically just continued going until the whisky and the port ran dry and until our fingers were too blistered to play any more (Derek's in particular when we sprung the double bass on him). We're really happy with the results. One of the best things about recording live is that you get to keep all the musical nuances that creep in, often in error but they make for the most interesting and unique results. We could easily have edited some of these out but they're what made those recordings what they are.
I've heard there are some real life birds on the record. Can you tell us a little more?
Correct! In accordance with the logic laid out above… we'd been working well into the night but this time at Nick's studio, Luke and I were there to add in some vocal layering and we'd just finished recording the 'ahhhss' at the end of the final/title track. The three of us found ourselves strangely emotional after this and we could hear the world starting to wake up outside as the birds sang. We just had the overwhelming whimsical urge to record them so Nick leant out of the window as far as he could, hundreds of pounds of mic equipment essentially dangling free… it was tense, he had to turn them up so high that they'd pick up a pin dropping in the next room and he told Luke and me sternly to remain as still and silent as humanly possible. We just looked at each other in fear as our stomachs simultaneously decided to gurgle away as they processed the earlier evening's Thai food. Those birds signify a very poignant time though and personally I just love that each time I listen to the song I'm transported back to that hour, reviving every emotion as if felt for the first time.
I've never done it myself but I would guess that for any band the release of a debut album is something you've been working towards since the day you first came together. Now that the moment is here, how does it feel?
Terrifying.
Wonderful.
The culmination of so much work, so many things. It does feel flipping great to be able to hold something in our hands though, a physical piece of work and say to the world, 'Look, we have an album!' I was having actual nightmares up until the day I received a shipment from Universal, ripped off the shrink wrap and checked every millimetre of the thing… a couple of nights prior I'd dreamt that they delivered them in DVD boxes and they'd removed the ampersand so it just said 'Patch The Giant' everywhere. I was fuming. It's also so great to be able to reflect on the process (as we're doing every day in interviews such as this one) and be able to share all the moments in its making and to be able to publicly praise all of the people we've worked with – there are so many wonderful and talented teams and individuals, without whom we would not be here.
All That We Had, We Stole is released on February 10, and the band are hitting the road this week.
10th Feb // LONDON – The Brewhouse (ALBUM LAUNCH)
11th Feb // BIRMINGHAM – The Victoria
13th Feb // MANCHESTER – Gullivers
15th Feb // YORK – The Basement
16th Feb // SHREWSBURY – Hole In The Wall
17th Feb // CAMBRIDGE – Cambridge Folk Club
18th Feb // IPSWICH – Cult Café
19th Feb // SURBITON – The Lamb