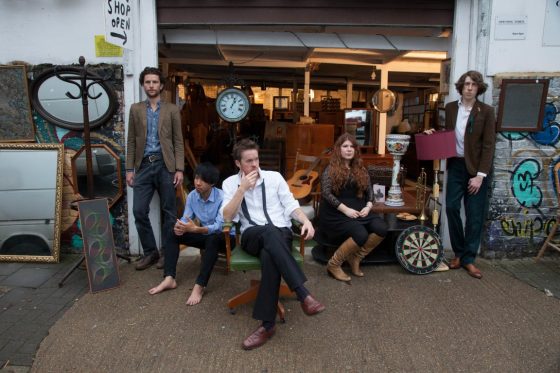 Ahead of the release of their debut album early next year, welcome to the first instalment of a five-part confessional from members of Patch & The Giant as they admit to past crimes of the light-fingered variety, and offer up a short playlist. First up, Luke…
The title of our debut album is All That We Had, We Stole and we thought it would be fitting to include in the artwork a few things which we have actually stolen over the years. It wasn't our intention to create a reputation as a kleptomaniac group of musicians but perhaps the things which we chose to steal – and why – will give a new insight into each of us.
Thanks very much to our good friend Graham Treadwell for the sketches.
***
LUKE
A Packet of Biscuits
So, when I was about 13 I thought it would be really cool to steal a packet of biscuits from my local shop. Plain Digestives. Which are the best biscuits to be fair. But stealing is bad. Don't do it kids. I was grounded for a week.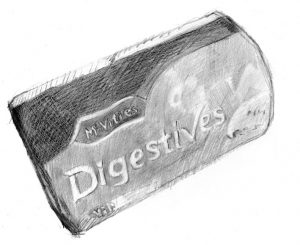 Click the link below to listen to Luke's Stolen Playlist by Patch and The Giant
https://open.spotify.com/user/angierance/playlist/2xQY4QRIsnjDhjFKULBlhI
The Chips – Rubber Biscuit
Pretty obvious choice. It's the only song I know that has anything to do with biscuits. It's not a common theme in music.
Jimi Hendrix – All Along the Watchtower
It's got a thief in it. A fairly tenuous link I know but any excuse to listen this song.
The Smiths – Shoplifters of the World Unite
Admittedly I didn't really know this Smiths song but after googling 'songs about theft' it was a toss up between this and Cher.
George Harrison – My Sweet Lord
Apparently George stole the melody from the Chiffon's song 'He's So Fine'. It doesn't make it any less awesome in my eyes though.
Matt Monroe and Quincy Jones – On Days Like These (from The Italian Job)
The music in the opening scene for the greatest heist film ever!
The Hollies – All I Need Is The Air That I Breathe
Another plagiarism issue. Radiohead got accused of stealing the chord sequence and bass line to write 'Creep'. But I've heard 'Creep' over a thousand times so let's go for this.
All The We Had, We Stole is due out on February 10, and the band's latest single 'Flowers' is out now.