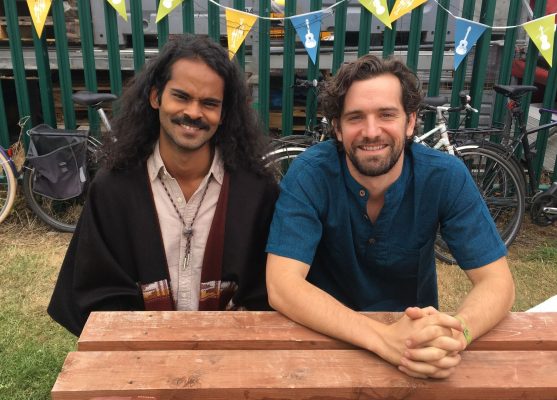 Massachusetts 4-piece indie folk band Darlingside were the talk of Cambridge Folk Festival a couple of weekends ago. Their first day playing outside of America saw them charm the crowd in front of Stage 2 on the Saturday afternoon, before announcing at the end of that set that they were to step in for the ill Charles Bradley in the penultimate slot on the main stage that evening. The next day, before another set in the Guinness Tent and a signing, Darlingside's Auyon Mukharji and David Senft were kind enough to sit down and talk with FFS about a remarkable first day in the UK, where they've come from, and where they might be going to.
Yesterday was quite a special day for you guys. How did you find that whole experience?
AM: It was pretty surreal. The first slot at stage 2 was really wonderful, and better than we were expecting, the crowd was super responsive and welcoming. Had that been all we experienced we would have been really happy, so to then play to a crowd four times that size on a much bigger stage was more icing than cake perhaps, but it was really wonderful.
DS: It's reinforcing the notion that this is a magical fantasyland. We've been thinking about this trip for a long time. Since we've been a band we've been imagining going overseas and thinking about when we would get to that point, and so to have it all come over in that way yesterday was very special.
Can you give us a brief history of Darlingside?
AM: We met in 2003 at Williams College in the northwest corner of Massachusetts.
DS: Auyon and I were randomly paired up as freshman year roommates.
AM: We were all in musical groups together at college, including an a capella group. Then when Harris graduated in 2009 we decided to try it as a professional outfit. So it's been about seven years of that. For the first four years we were a rock band with a drummer. When we parted ways with him three years ago we slimmed down to what we are now, a 4-piece around one mic. Harris might have been the only one who expressed musical ambitions post-college. My plan was still to become a doctor.
DS: Another fun part was that Auyon spent a year travelling around the world after college and went to Ireland for four months. I stayed with him in Galway and remember we talked then about what a career in music might be – Auyon was studying music at the time. That was also when we went to visit Harris in Oxford, for his junior year abroad. I remember definitely explicitly talking then with Harris about being a musician professionally. So that dream kind of started over here, in a way. And we went back home and let that idea marinate for a while, and then once everybody was out of college it happened.
With songwriting, you guys mentioned from the stage that you write collaboratively, and that childhood is often a theme in your music. What other themes do you tend to gravitate toward?
AM: When we talk about childhood we're digging into each other's pasts and perspectives. That pushes us in different directions, because the way that I process things from my childhood might be very different from the way that Dave thinks about things. Melding those things together such that something feels authentic to all of us is a rewarding but occasionally difficult process, because we all feel strongly about these things. There's a lot of butting heads in the rehearsal space but at the end of it there's also a deeper understanding of how each of us process things.
DS: It's interesting that at the end of a song we often relate to it differently. My idea of what a song means might be different from what Auyon's idea is, but we still like the song the same amount, it means a lot to us, it just might mean slightly different things, even though it was a combination of all our ideas, and we were there the whole time together and we saw the whole thing happen, but we still end up with different ideas of what it means.
And I guess not only bringing different experiences to the table, but own musical influences too? What are you guys listening to?
AM: It changes. Coming to a folk festival I'm being reminded of the Irish stuff I was listening to when I was there in 2008 and that still plays a large role in the way I think about music. I've started listening to a lot of older bluegrass stuff.  That gets mixed in with Taylor Swift and Justin Beiber's new albums.
DS: I've found in the last few years I've been way more excited to listen to music by friends of ours that we've made on the road. We love listening to Taylor Swift and we all celebrate whatever is the hippest thing but I just love meeting people and sharing the stage and then taking their album home. So Della Mae, who're here right now, and Jordie Lane, Mandolin Orange, Freddy and Francine, Tall Heights. They're people we've been playing with recently.
Are you writing as you're on the road?
DS: We do not write on the road. Well, that's not totally true, Harris is writing all the time. And in some ways we all are – we're taking things in and talking about our experiences a lot, and constantly trying to understand each other better, and our experiences better, and each other's perspectives about things and grow from everything we're doing. That often ends up being what we then write about when we sit down to write a song. We're always pulling from our experiences, making mental notes of things we want to put into our songs. Harris is always holding a guitar and always coming up with new melodies so we're hearing those and thinking about which ones we want to work on. So there's some of that going on in the background, but generally we switch modes entirely from being on the road to then being at home rehearsing and writing.
How much of the last couple of years have you spent on the road? What's the balance of road time to down time?
AM: One of the funny things about live music is that your intra-group relationship is part of your product, it's part of what people are coming to shows to see, and so making sure that all of us are happy is a big consideration, and that relates back to how often we're playing shows, what breaks look like and how often we're back home. That's something for the first years of our existence we spent a lot of time thinking about and now we have a wonderful team behind us, manager and booking agent and other folks helping us figure out what that balance looks like has been a really nice thing. The biggest goal here is to create something sustainable that means we're getting to where we want to get to but doing so happily and slowly enough that were all enjoying ourselves along the way. I think we're all quite happy, especially here in Cambridge, but in general too, which is nice.
Darlingside's album Birds Say is available in the UK now from Amazon and some good record stores. 2017 sees them return to our fair shores with a London show at The Lexington on 1st February (tickets), with more dates to be announced shortly.
Words: Angeline Liles