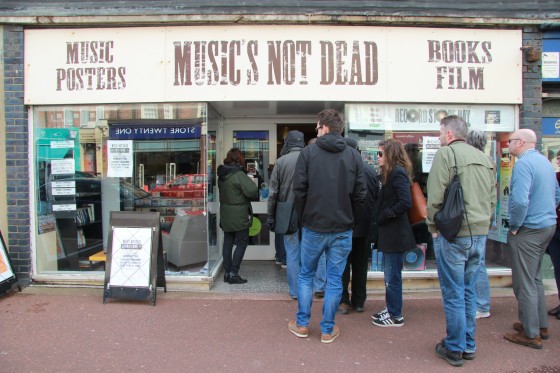 "What time did you get here?"
It's clear my presence in the Record Store Day queue outside Music's Not Dead in Bexhill has upset the natural order of things, though I'm not alone in that. The question is actually being asked of Carl, a first-timer who turned up at 9.30pm on Friday night "because I had no idea how this worked". I followed 45 minutes later, a little before the first of the regulars came along and realised that, for once, he wasn't going to be first in line.
This year I've left my regular place outside Piccadilly Records in Manchester to head 250 miles south to Bexhill in East Sussex, where Music's Not Dead is taking part in its fifth Record Store Day since opening in 2011. I've asked owners Rich and Del if I can stick around for most of the day, to get a perspective of Record Store Day from the other side of the counter, but I'll help out as well as hang out as the last thing they need is someone under their feet on the busiest day of the year. But all of that is 10 hours away as I take my place in line. Even if I'm going to be in the shop all day the first order of business is getting one of the three (yes, just three) copies of the White Stripes' Peel Sessions they've secured after much angst during the scrambled, last-minute distribution of this late addition to the list – and that means getting a place in line nice and early.
As we sit huddled in the small doorway of the shop, sheltering from the wind and expressing gratitude that the rain and worse falling on so many Record Store Day queues around the country is sparing this seaside town, we hardly notice that no one else has turned up. It's nearly 2am before the queue grows to six people, and then gone 4.30am before it expands any further. Numerous theories are considered. Perhaps the list isn't as strong this year. Perhaps Friday's foul weather put people off – even if it has cleared. Perhaps it's because there's no One Direction picture disc this year…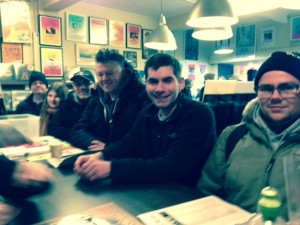 Whatever the reason, the queue does begin to grow steadily once the sun comes up, though the regulars are concerned it remains short of recent standards. Del turns up with wife Nikki at 7.15, and while final preparations are made inside, welcome cups of tea and coffee are distributed up and down the line. Rich, joined by wife Jo, soon follows, clutching those precious White Stripes LPs under his arm after fetching them from Resident in Brighton the night before. We're let in to the warmth at 7.40am, but for now can only stare longingly at the records lined up behind the counter. Record Store Day rules dictate nothing can be sold before 8am. As time ticks down, they take the wanted lists off the first few in line and start piling them up on the counter. Then the clock strikes eight, the till is rung up, and Record Store Day has begun.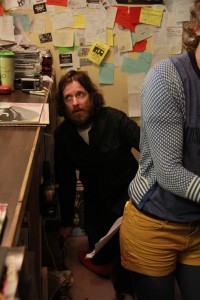 They might be staffed up in the cramped space behind the counter, but progress is steady rather than swift – there's still only one till and one card machine, and they can go no faster than that. Del can hardly be seen as he sits in a precarious spot on the floor, surrounded by stacks and stacks of LPs and a box load of 7"s. He grabs the records as they are called out while Nikki handles the till, Jo gets everything bagged up and Rich takes card payments. Once my haul is safely stashed amid the piled up boxes in the back room, I take a place at the end of the counter, responsible for finding anything from the Slits to the Zombies and everything in between.
"Knowing me, knowing you, a-ha!". Jo and Nikki celebrate loudly as the first of the Alan Partridge picture discs is sold at 8.32am as part of a wants list otherwise dominated by heavy rock. Then I have to laugh as one customer pays a tab north of £170 but then says to Rich, "If the other half asks, I spent £80, yeah?". Just before 9am the phone rings and, not for the last time, Rich has to explain to the caller that no, they can't put anything to one side. This might be the ninth Record Store Day, but the amount of time shops have to spend explaining the rules to everyone every time is quite incredible. The phone will ring several times throughout the day.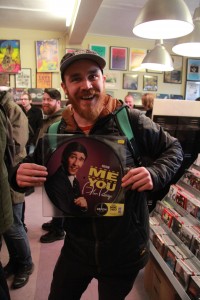 "There are Reatards for everyone!" A large group of friends have come in together, three of them wanting the reissue of Jay Reatard's Blood Visions and, after checking with Del, they've established there are enough copies left to avoid a fight amongst themselves. Nikki, meanwhile, looks on longingly as one of the copies of Glen Campbell's Wichita Lineman 7" is sold, while Jo frets about the diminishing numbers of the Star Wars picture disc – the staff here don't let themselves choose anything until the end of the day. I'm not sure I could handle selling other people records I wanted but couldn't have myself.
Del had told me to expect the queue to be gone by around 11, but despite that slow start it is still going beyond the end of the window as that time passes. Waiting time is around an hour if you join it now, but we're at the point where a lot of the popular stuff is mostly gone, even if there remains a healthy stack of the David Bowie picture discs which have been moving steadily all day. "I don't like this part of the day. This is the bit where we start disappointing people," says Nikki as the first person leaves empty-handed, having only wanted Madonna's Like A Virgin & Other Big Hits EP.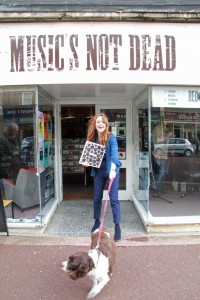 A man in a lime green hat signals the end of the queue, and takes away his haul moments before 12, just in time for the first of today's live in-store performances. First up is the wonderful Hannah Peel, here to play a few selections off her RSD release Rebox 2 – a collection of music box tunes. "This is my third gig, no, fourth, today. I think" she says to me while setting up. Hannah is going for it this Record Store Day, having played her first set in Resident at 8am, and aiming to play eight shows at shops along the south coast before the end of the day. The frantic schedule means the set is brief but well received as she whizzes through the likes of the Velvet Underground's 'Sunday Morning' and Wild Beasts 'Palace'.
With the queue gone, it's time to move the remaining stock out into the crates for customers to browse through the rest of the afternoon – a process allowing us to check what's actually left. This is how we came across a copy of Arthur Russell's Loose Joints singles, an hour or so after telling someone it had sold out. But luckily that customer is still in the shop enjoying the live shows. We give her a quick tap on the shoulder, show her the record and her face lights up. "You've made my day!"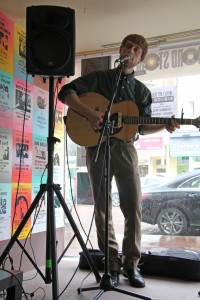 By the time our next live act, Benedict Benjamin, takes the stage (well, the space in the window), the wet weather that had thankfully held off overnight has arrived outside – and the shop fills up as people hear the music and figure this must be a good spot to take shelter. Among them is a whippet-like dog who came in with his owner and took up a spot right in front of Benjamin, standing on his hind legs and seemingly utterly enthralled. "I'm being upstaged by a small animal, but I can live with that," Benjamin notes. This set is longer as he plays most of his new record Night Songs, filling the shop with his rich vocals. "I don't have a way to turn off the reverb between songs, so you'll just have to put up with me sounding like God when I talk, okay?" There are no complaints.
It's not Benjamin's first trip to Bexhill, having played the De La Warr Pavilion with Peggy Sue, but his first in the daytime and his first stop at this record shop. He seems genuinely enthralled. "I want say thank you to the great people in this shop," he says before his last song. "They are so nice. You don't get this in record shops in London, I can tell you."








After more than nine hours outside in the cold and seven hours on my feet in the shop, I'm wondering if it's time to call it a day myself, even if there are two more live performances to come from William The Conquerer and Ellie Ford, not to mention an infectious vibe in the shop. I am reluctantly persuaded by my other half it's the sensible thing to do. Over at the counter, enquiries are still being made as to the remaining stock. We think we're all out of Space's Spiders picture disc, but locate one just as the customer is leaving, sending Del chasing down the street after him. Just another satisfied customer on the busiest day of the year. He picks up his bag and smiles. "See you next year!"
Photos by Ian Parker and Natalie Marchant