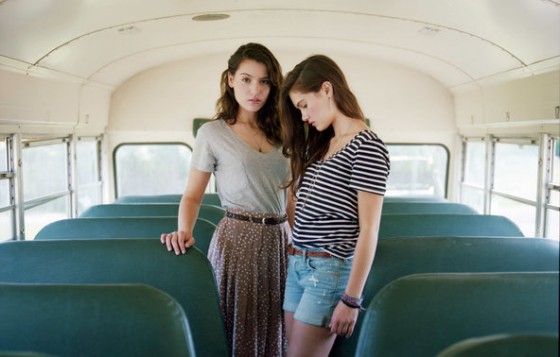 We've been banging on about Lily & Madeleine for months now, so we thought, with their self-titled debut album due out next month, it was time we heard from the Jurkiewicz sisters themselves.
Hello, please introduce yourself and your music to the uninitiated.
Hello! We're Lily and Madeleine. We're sisters and we like to write and play folk and alternative music.
Lily: I play guitar, piano, banjo, and ukelele.
Madeleine: I play the piano.
Tell us a bit about your new album…
L: We're really excited about it! We wrote it with Kenny Childers around the spring of 2013. It includes a bunch of new songs as well as some old ones that didn't make it onto our EP. We recorded it in about two weeks in Bloomington, IN with Kenny, Wade Parish, Matt Tobey, Heidi Gluck and Shannon Hayden.
What was your best ever gig?
M: Our best ever gig was at the Clawhammer Festival in Oshkosh, WI. We met so many talented artists and played with some amazing musicians. The festival was held in a Masonic Temple, which was mysterious and amazing!
What's the worst thing about being a musician?
M: The obligations that come with the title. Lily and I don't love being photographed or filmed, but photo shoots and music videos are just part of the deal. We especially don't like to do/wear things that make us feel silly or unlike ourselves.
What inspires you?
L: Like anyone at our age, I think we're inspired by the things we learn and experience as we get older. And when I see that we're inspiring others it makes me want to do more!
If you won a billion pounds what would you do with it?
M: If I won a billion pounds (or $1,560,000,000!!) I would travel all over the world! I think I would also give a chunk to my high school theatre department to build an auditorium. When I was in the musicals at my high school I always wished we could have a real stage to perform on.
L: I would also travel all over, and give a lot of it to my friends and family and those in need.
Which of your songs is your favourite and why?
M: Our favourite song is 'You Got Out'. The album recording was done in one take and was live with the guitars. Maybe it's different for the listeners, but we can really feel the lyrics when we sing that song.
What are you plans for the future?
M: Well right now we're both in school. Lily's in high school and I'm in college, but we're still working hard on our music. We plan to tour in Europe this October and we're so excited!!
Finally, we're always looking to expand our musical horizons. Do you have any recommendations of bands or artists we should be looking out for?
L: Son Lux's new album Lanterns is being released on Joyful Noise the same day as our album! We got to sing on two of the tracks so we're really excited about that. It's a brilliant album and we are excited for its release!
Lily & Madeleine is out on October 28 on Asthmatic Kitty.