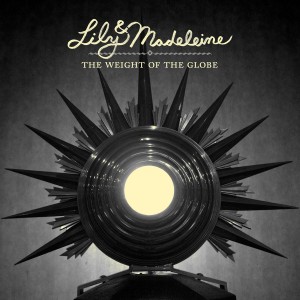 On paper, there are enough warning signs about Lily & Madeleine that you could be forgiven for being a touch suspicious about their music: a bonny pair of teenage sisters hitting a post-Staves landscape with a harmony-laden YouTube hit, a slick website and the backing of Vogue – it's enough to make your spidey senses tingle. One listen to their glorious debut EP The Weight Of The Globe should be more than enough to wash away any cynicism. It's just so beautiful.
The EP opens with the 'In The Middle', the track which brought them into the limelight, and it's more or less perfect. Mellifluous and lovely, it gently warms every inch of you like a lazy summer evening. 'Back To The River', meanwhile, is saturated in weariness, so wonderfully and authentically maudlin it seems surprising from such young artists until you remember what being a teenager is actually like. In 'Things I'll Later Lose' – "I have to ask, what's the use of finding these things I'll later lose?" – they seem to have more understanding of the fleetingness of youth than anyone still not old enough to drink legally in their home state of Indiana really should.
The pair's voices, perhaps unsurprisingly, are so good together, with the dominant sweetness of Madeleine's vocals underscored by the slight edge provided by her younger sister, but it's the quality of the songwriting that is so striking. The Jurkiewicz sisters have produced three tracks as good as you could possibly hope for from a debut, and if on the other two they don't quite reach those heights well, heck, that only seems fair. They've set their own standards startlingly high. If they can continue to reach them, Lily & Madeleine will be worth getting very excited about.