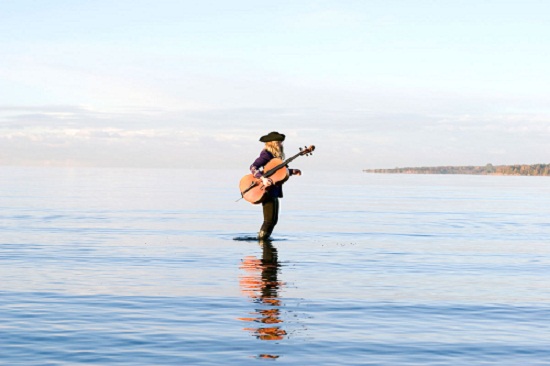 It seems that these days you only have to give a talented artist a loop pedal and there's no stopping them. Last year our favourite looper was tUnE-yArDs' Merrill Garbus – this year it's Swedish chanteuse Linnea Olsson who, with cello, voice and pedal, created one of the most innovative and beguiling records of late 2012. Ah! is a work of art – so perfectly crafted and at home within its elements that it's hard to believe this is Olsson's first solo debut.
We were lucky enough to talk to Olsson at the Swedish Embassy after a debate on music and the digital age, where it became abundantly clear that for this musical pirate, technology has facilitated the perfect marriage of classical and the new. Becoming utterly rapt during a three song set, we're looking forward to much more of Olsson when she commences her first headline UK tour next month.
You've just released your debut solo album. Can you talk us through how this record came about?
I started writing in a state of boredom really – more like restlessness. I was not having much work, I didn't play a lot and I walked around feeling a bit useless! I was checking Facebook for hours and hours, looking at other peoples' perfect lives… so you could say I was like – "Argh! I have to do something!" And I think I felt for a long time that I needed to express something that I hadn't yet expressed, so it just kind of burst out in a lot of the songs.
So what are you expressing on this album?
I think I am expressing that feeling of restlessness. I'm a daydreamer, so a lot of the songs are very daydream-like and also the feeling of….nature! I'm inspired by a beach in my home town [Halmstad] called the West Beach, and I kind of mind-travelled to that beach and also my childhood excursions in the forest that surrounds that beach while I was writing.
Is that the beach on the album cover?
Yes!
That's a great image…
I had a vision of me standing out in the ocean because the sea is a big inspiration for the whole album – I love to swim in the sea.
Do you find swimming in the sea good for the soul?
Yes! It is – it's like the title: Ah! You're in a wave and just that feeling of 'Ah!' Throw your problems away and when you get out everything feels easier. Also, a friend of mine once told me, 'When I think of you, I think of a pirate.' And I thought – Ooh! I like that! I'm going to be a pirate and I'm going to stand with the cello out to sea.
What kinds of thing do you write about?
Half of it is from my own life and then there are other people in my life that I write about – I say no names! And I also just make up stuff
When did you realise you could make popular music with your cello?
It must have been during my years at the music college in Stockholm when I started to experiment much more with the cello. Before then, I really played classical then suddenly I started a band with my ex-boyfriend called Paintbox – we're still playing – and it developed from that really, and I did a lot of collaborations during the music college years. I think when I started with this loop pedal and the effects that I use it just kind of developed at its own kind of pace. Since I've always wanted to play something else than classical music it wasn't a difficult to take that step. It was like Yes! Save me! Finally I've found an expression that I feel comfortable with.
Did you not feel that with classical music?
Hmmm, just with some classical music. I love to play Bach, and the baroque stuff is really basic, it's kind of pop music-like. It's catchy and it's not afraid of being sweet and I like that.
This album is very much about you, the cello, your voice and the loop pedal. Where do you see yourself going next?
When I'm writing now I imagine having other people on stage with me. I think I try to let it go the way that it goes…but I feel that I want to have more rhythm instruments, like drums. I will add drums! One song on the album, Ah!, has a drum on it. I love drums, I wish I'd been a drummer. My big brother is a drummer.
Would you like to collaborate with him?
I would very much like to do that. We've been talking about starting a band for a long time. We did play a lot before. He's very busy with his band right now, The Royal Concept.
You've said you're surprised by the positive reception of the album, particularly over here in the UK…
I would never release something if I didn't think it would give something to other people, but I did it very much for myself as well so I didn't really have any expectations about how it would be received. But I have been positively surprised because I didn't think it would get as much attention as it has – which I love! I'm so happy about that. It's got a lot of press and good reviews.  It sounds a bit pretentious me saying that, but I didn't think people would get the thing with just the cello and the voice. I think they would have felt it was too new age. We have a great word in Swedish: 'flummit'. It's like – kind of weird, whimsically weird, laid-back weird! But I think it's easy to listen to – it's not difficult.
What are you most looking forward to about touring in the UK?
I'm most looking forward to meeting the audience- that's what I'm supposed to do. And I just love to play. I have a need of expressing myself and I feel very strongly that I need to give something to others and I think I do, when I play. At least, that's how I feel when I see the faces of the audience! And they give me in return, and that's an amazing thing really. It's out-of-this-world wonderful!
photo credit: Tammy Karlsson
Catch Linnea Olsson on the following dates
2nd March – The Workmans club, Dublin
5th March – Thekla, Bristol
6th March – Slaughtered Lamb, London
7th March – Brudenell Social Club, Leeds
8th March – Sacred Trinity, Manchester
9th March – Red Rooms, Nottingham
10th March – King Tuts, Glasgow