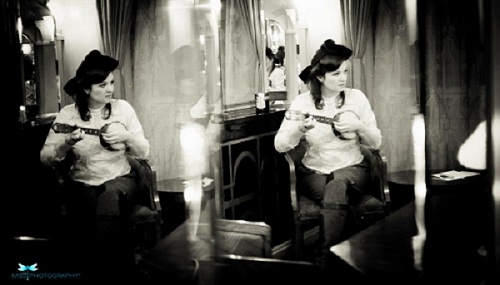 Katy Carr is on a mission. The daughter of a British father and Polish mother, her fourth album, Paszport, is a tribute to lost and forgotten Polish war stories that is both moving and a darn good listen. Carr's first two records, Screwing Lies and Passion Play were more straightforward folk – tales of love, passion and seduction that flirted with quirky arrangements and synths. It was with 2009 release, Coquette, that she began to explore stories from the Second World War and the themes of patriotism and nationhood that, with Paszport, would become a raison d'etre.
Known for performing in beautiful, 1940's vintage outfits, Carr's fascination with WW2  began early in life – rather uniquely for a folk singer, Carr is a qualified pilot who trained with the Air Training Corp, and who firmly believes that the spitfire 'saved Britain from Nazism'. But her love of 30's and 40's music was really sparked by her English grandmother.
'My grandfather died and my grandmother was grieving,' she explains. 'She wouldn't talk to anyone. My father and aunties didn't quite know how to break the barrier of the silence and one day I was sitting there and I asked her, "Grandma, will you tell me about your youth? What was it like in the 30's and 40's?" And as soon as I asked her that, her eyes lit up and she talked about her youth and wouldn't stop for three days!'
Carr recorded it all, fascinated by tales of the dance halls and music, and how the songs of Gracie Fields and Dame Vera Lynn – whom she later met and presented a song to – were used to keep morale up through this desperate time. She also discovered that her own, crystalline voice, felt comfortable in a similar style and register. Although the subsequent record, Coquette, focuses on British war stories, one of the songs, 'Kommander's Car' was inspired by the astonishing story of Kazik Piechowski and a group of other Polish men interned in Auschwitz who stole the uniforms of their guards and made away in the commander's car.
'When I wrote 'Kommander's Car' I didn't know Kazik was still alive! I was trying to imagine what it would have been like to be in the car, and I was Kazik in my songs and I didn't even think of him being alive. I wanted to give my song to the Museum of Auschwitz and they said, 'You know he's alive?' I think it was the most beautiful shock I'll ever have in my creative career.
'I knew meeting him would change my life, because you don't go to meet someone like Kazik on a whim – you know that something very important will happen. I really was a bit frightened because I didn't want to upset an elderly person – I didn't know how he would respond!'
Luckily, Kazik was open to Carr's project, repeatedly assuring her by saying 'I understand everything'.  As predicted, the meeting completely changed her creative course – she talks about how his patriotism 'infiltrated' her creativity, and was clearly overwhelmed by his kindness and generosity in sharing his life's stories. 'The history of Poland has been silenced for quite a long time,' she says.  'During Communism things weren't allowed to be talked about so to have these stories told first hand to me was very, very moving.' Carr talks of Polish history with pride but also great sadness –  'They never had a victory day, and a lot of Polish war veterans never felt that they were free until 1989.'[When Poland finally became Democratic]
And so Paszport was born, a collection of, alternately, wry, sad, sweet, despairing and triumphant Polish stories. Many use Polish folk sounds and structures, while others, like 'Kommander's Car', have a more contemporary feel. Particularly heart-rending is 'Mala, Little Flower', based on the story of a Polish girl who hid twelve Jewish people in the basement of the SS Officer she was forced to work for. When the officer finally discovered them he threatened to kill them unless Mala slept with him – which she did. Having survived this horrific ordeal she went on to meet and fall in love with another freedom fighter, who then died before their wedding day.
The significance of a person's passport – their right to travel, their status as a citizen of their country – became clear to Carr whilst talking to Polish war veterans. She explains how, for so many years, huge numbers of Polish citizens were denied the right to a passport -'Kazik lost his right to a Polish passport when he was in Auschwitz, then he lost it again when he fought in the war, and again after the war when Poland  was a communist country.' She sounds humbled when she talks about the people who are affected by the stories on the album. 'I think what's really moving is that I get a lot of 'Thank you's, and people seem really grateful that I'm taking the time out to come and sing these songs to them and that they're being remembered and their voices are being heard.'
Listening to Carr talk about people she's met who walked from Siberia to Africa, or who worked in the sewers as part of the Polish resistance, it's difficult not to be similarly shocked and awed by the resilience of those involved. With so many stories coming to her, does she feel compelled to make another, similar album?
'The stories on this album, they seem to represent a lot of stories and the themes are universal – for anyone who has lost their passport or the right to go back to their country…it is for Poland, but it's also for the world. I would certainly like to investigate some Polish folk music, and a collaboration with one of the Polish folk musicians, and I'd like to investigate some of the songs I've been learning from Poland from the 1930s – maybe a tribute to the music of Poland. I think I've done my Polish World War Two album!'
words: Theresa Heath
photo: Monika S. Jakubowski 
Watch Katy meeting Kazik here and catch her on the following dates:
26th January – Celtic Connections, Glasgow
29th January – British Library, London
7th February – Green Note, Camden, London
10th February – Colston Hall, Bristol
17th March – Devonia, Islington, London