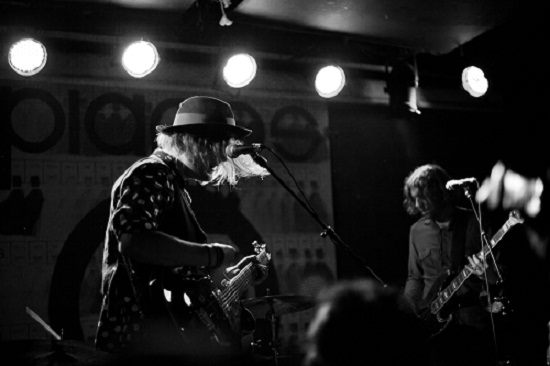 Alberta Cross are a band who have certainly earned their place on the main stages. Touring extensively with artists such as Oasis, Them Crooked Vultures and Black Rebel Motorcycle Club, Petter Ericson Stakee and Terry Wolfers are about to follow on from their much celebrated debut album, Broken Side of Time with the hotly anticipated Songs of Patience. We spoke to the band about their summer plans and what inspires them….oh, and pork pies make an appearance too!
Tell us a bit about the new single.
This was one of the songs that Petter wrote when he was living in LA. It kind of sums up what he was experiencing back when he was living in New York, though. We tracked it at EastWest studios on Sunset Boulevard, which is where Pet Sounds was recorded. It's really a class studio!
Which bands inspired you to first start writing songs?
We both listen to a huge number of bands and artists. I must say, though, that bands like The Verve, Ride, Blur and Stone Roses have always provided huge inspiration for me.
The summer is now upon us. Will we be seeing you at any festivals?
Yes. We'll be heading back home to Europe after we finish our current US tour, which is in about two weeks, and I can't wait! We're really looking forward to being back there, and no one quite does festivals like the Europeans. We'll be at Leeds, Reading, Oya in Norway, Way Out West in Sweden, and tons more.
What was your best ever gig?
That's a tough one. I have to say that playing Fuji Rock in Japan was pretty special. I had wanted to go to Japan for ages, and to play at an amazing festival there was wicked. We had a big turnout, and the crowd was absolutely crazy.
Which musicians, alive or dead, would you like to work with?
I would have loved to have worked with Nick Drake or Nina Simone. Nick Macabe from The Verve is one of my all time favourite guitarists, and I would love to work with him as well.
Out of all your songs, which one would be your favourite and why?
I love them all, but if I have to pick one, it would be I Believe In Everything. We had a lot of fun recording this one. We just got a bunch of mates down to a wicked little studio in Charlottesville, VA.
If you won a billion pounds, what would you do with it?
Go down to Tesco and buy a pork pie.
Finally, we're always looking to expand our musical horizons. Are there any bands or artists we should be looking out for at For Folks Sake?
We're touring with a band called Everest, and they're class! Such a great bunch of lads, and they have some wicked tunes. I would advise everyone to check them out.
Alberta Cross have a busy summer schedule and you can catch them at the following festivals throughout August:
Friday 10th – Oyanatt @ Rockefeller, Oslo, Norway
Saturday 11th – Way Out West (Stay Out West), Sweden
Thursday 16th – Pukkelpop Festival, Belgium
Friday 17th – Lowlands Festival, Netherlands
Saturday 18th – Area 4 Festival, Germany
Sunday 19th – Highfield Festival, Germany
Monday 20th – Paradiso, Amsterdam
Tuesday 21st – Noorderzonfestival, Netherlands
Friday 24th – Leeds Festival, UK
Saturday 25th – Rock En Seine, Paris
Sunday 26th – Reading Festival , UK
words: Carly Goodman
You can listen to their current single, Magnolia (which is out now) here: