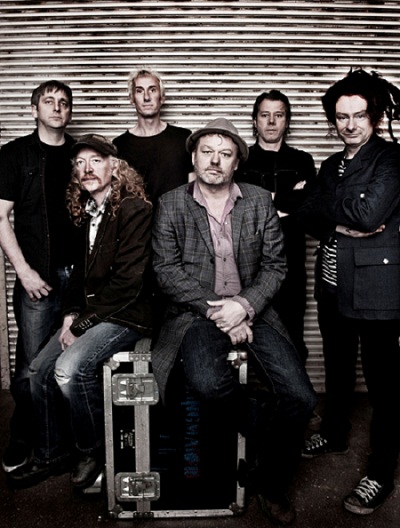 For many of us on the unfavourable side of 30, the Levellers defined the protest landscape of the 1990's. After the relatively apathetic 80's, they were an electric shock to the faltering musical protest movement – a group of angry young men sick to death of the social ills they saw around them and the evils of Thatcherism. Luckily, they also wrote blinding folk songs, and Levellers gigs became known for their wild abandonment, manic dancing and sense of togetherness.
25 years on and they've lost none of their fight, although perhaps learnt a few lessons in patience. New album 'Static on the Airwaves', produced by folk super-producer Sean Lakeman, is their first in 4 years and shows a more sophisticated band exploring new metaphors for raging against the machine. So far it's garnered rave reviews from both fans and press – not always a common configuration in the early days. FFS spoke to guitarist Simon Friend about the role of the Levellers today, and some of the highlights and regrets from a long and prolific career…
Some people have been calling the new album and tour a reunion – but have you ever really been away?
No, not really – I haven't been on holiday in 20 years!
So why have the band picked now to return to recording new material?
It's harder to do it as you get older as a band because your touring commitments get bigger, so you have to force yourself to stop, take the time to write, otherwise you lose track of what you're trying to do. 2008 was the one before so it's been a while – we've all had various reasons for that but we're pleased with this one, very pleased.  It just seemed right, really.
Did anything feel different this time round?
There was quite a lot of different stuff really – there were a few differences of opinion in the band over material at times, and everyone goes through different things in their lives and sometimes these things conflict. When you're working in a band like ours, if you put much too personal stuff in it can be dangerous. We're quite hard taskmasters and we try to write about what's relevant to the world as opposed to the individual. Having said that, we've done a couple of tracks recently which have been more individualistic. I think that's just age and maturity coming on and realising that sometimes you've got to be a bit more soulful.
Do you still get on as well you used to?
Oh definitely. You naturally draw apart a bit when you all have families and commitments start taking over but I don't think it's drawn us apart in terms of friendship. Obviously we don't see as much of each other as we used to – most of us have got kids, but we still have a laugh together.
You were very much part of the 90's protest movement. Looking at the socio-political environment today, do you think this movement was successful?
Well, quite a lot of stuff on this album looks at the same stuff we were talking about 25 years ago, so in some ways – no! Things haven't changed much. But that's the whole thing about protest  – it's centuries old. I think I was always prepared for the fact that what I was hoping for was kind of utopian, but I'm quite frustrated now that a lot of things haven't changed. But some people are changing, and there's a lot of protest about current events all over the word…
In contrast to uprisings like the Arab Spring, do you think we in the UK are very apathetic?
I think we're apathetic about opening our eyes. I think we're apathetic about learning more about the world situation, although having said that I think education is changing a lot – some of the stuff my daughter's learning, I'm glad she's learning… I think home environment is very important – there's a massive responsibility on parents to to make sure their children understand the ideals and principles that they hold, teaching them to be honest people…and that seems to be getting lost a bit, I don't know why. Maybe I'm just old school.
So where do the Levellers fit in today?
We just do what we do, we do what we've always done. The album pretty much speaks for itself, about how we feel about things…I'm not a huge fan when it comes to Facebook and stuff like that – I don't feel I've the time, I don't know how people do it.
Doesn't social media help to get the message out there?
I think it's good for bands. Young artists – it's a definite platform for their product and their stuff. So on that side of things it's really good. But it's when you get people continually telling people what they're doing and it's like – where do you get the time to do it? I recently had my own Twitter account hijacked. It was slimming pills or something, they were sending me all these adverts about slimming pills and I don't think I've ever been more offended!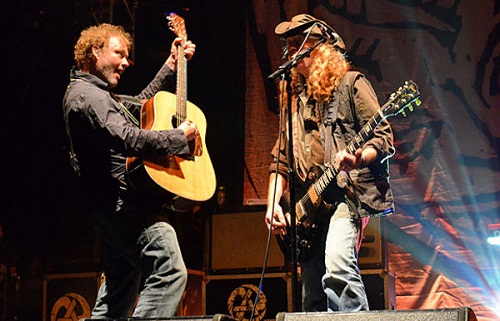 You've had a very long career – any regrets?
Er, probably – there's a few I'm not going to mention! I think we could've handled some of the mainstream stuff a bit better. It probably would've done us the world of good – but that was principles you know? When you're young you are quite principled, not that there's anything wrong in that.
But I think that's why people loved and still love the band so much – because you're all so principled…
Yeah, you've just got to take it by the horns. It's a path and you don't always have a map when you set out but you try your most and see where you end up.
And what about highlights?
I think for me Beautiful Days [the Levellers' own festival]  – the first and second year we really were on a buzz and it was good to be able to do something we knew that we were good at. It's ten years old this year – it's done what we wanted. We're very proud of the festival and it seems to get better every year. I mean, last year was fantastic. It was the best year for me so far in a lot of ways…
Also, headlining Glastonbury the first time was great….I think finishing this album was really good, it was a very cathartic thing for me.
Going back to Glastonbury – do you remember much about the year you headlined the Avalon Stage? You had Howard Marx up with you at some point. It was definitely one of our festival highlights!
Oh yeah, I mean, I've played Glastonbury in many formats over the years and it is a kind of spiritual home in my head. I used to go a lot before, throughout the early 80's and it was great fun then. It's not the same now. I've got over that, the world isn't the same place. I'm an old hippy you know?
Do you have any plans to start any other enterprises?
I wasn't going to mention it but I've just started a thing called Simon Friend's Seismic Survey. The day after Beautiful Days my mum passed away unfortunately, and I'd spend a lot of time in Derby that summer, cos' she'd been in hospital. I ran into some old mates and got playing with them again and we decided to do a benefits show for the MS society. It went really well so we thought, 'Let's see if we can get a couple of gigs', and we've done a couple of shows and they've gone really well. So that's very much a side project, because obviously the Levs has to come first. It's just a case of fitting it in when I've got some time off. But it's good fun.
What musicians do you rate today and is anyone doing quite what the Levellers do in terms of raising social consciousness?
I like things like Bombay Bicycle Club…I don't know about social stuff. I like people like Aloe Blacc, Wolf People… Oh yeah – Dodgy – I was never a massive Dodgy fan but strangely I was down at my friend's boat yard and the guy who owned it got chatting and he'd written two songs off the new Dodgy album. I put it on and I really liked the whole album. I'm quite blown away by it. It was quite a surprise for me….but they've gone really Neil Young-ey, lots of instruments in there that I really like.
Is your favourite Levellers song still 'Carry Me?'
Yeah I think it probably is. It still gets me going.
And what's your favourite song on the new album?
Hmm, I enjoy playing 'Medusa' – it's great fun to play for me. That's a hard question actually. I think 'The Recruiting Sergeant' to be honest, it just kind of makes me laugh and I enjoy it and it's close to the heart, so I quite like that one I think.
Can you see a point where you'll  eventually throw in the towel?
I think we're just going to keep going and see how it goes. We're pleased with this record, we've got a pretty busy schedule up till the end of the year. Hopefully we'll just carry on with what we're doing. I don't think there's any plans on stopping at the moment. We're not quite at retiring age!
No not at all –look at the Rolling Stones.
I'd rather not actually! I like their music but they're not particularly visual these days!