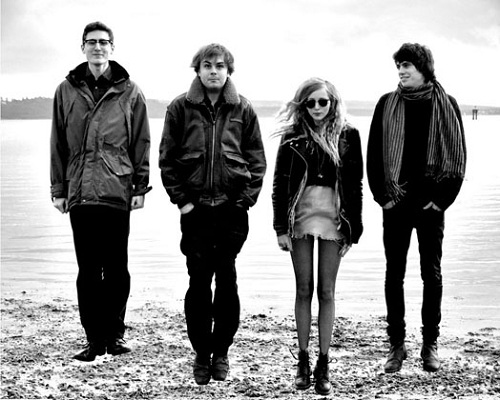 Native Roses were formed from the remnants of Modern Fighting Vehicles and counted Birdy among their ranks for a while (although her burgeoning solo career cut short a future with them). Hailing from Brighton, the band play country-infused Americana, dislike beer-only riders and have some bizarre ideas on what to do with a billion pounds. Intrigued? You should be.
Hello, please introduce yourself and your music to the uninitiated.
Native Roses are Jacob, James, Jessica and Moses and we mash rolk, rock and pop to make ballads, up-tempo jigs and the occasional sulky little sonnet.
Tell us a bit about your latest release?
We've got a single out on July 2nd. If you tweet @NativeRosesUK you'll get it free or if you're in the habit of paying for things just search us on iTunes.
What was your best ever gig?
We rolled up to The Prince Albert in Brighton around 1900 hours, all snotting with flu. Had ourselves some hot toddies and hit the stage around 9.30 in the pm.  As the middle of the set rolled round, Jessica's stomach decided it was time to show off and sent her charging through the crowd for a backwards dinner in the john. Playing the Scala with King Charles was pretty awesome too.
What's the worst thing about being a musician?
The rider is only ever beer, it gives me gas for Christ's sake.
What inspires you?
Driftwood, The Colonel, poverty and the slow death of people, relationships and beloved objects.
If you won a billion pounds what would you do with it?
We'd invest heavily in a chain gang of endangered-tropical- animal-butlers.
Which of your songs is your favourite and why?
Always the newest one. There's something exciting about getting to know a song, it's like a person you've just met; exciting at first but with a little time you soon discover they share many of your other friends' irritating qualities. It doesn't mean you love them any less, there's just not that mystery to keep you excited.
What are you plans for the future?
We've got an EP ready and waiting in the wings, our debut album is cooking as we speak and we've just been offered our choice of Juicy live shows in London this September. The plan is to rehearse, rehearse some more and then get out there and play wherever the sound is good and the rider is delicious.
Finally, we're always looking to expand our musical horizons. Do you have any recommendations of bands or artists we should be looking out for?
Joker and The Thief, Kins, Connan Mockasin, Moya, Dr Bluegrass and an old favorite of ours – Beans on Toast. They're a tasty bunch.