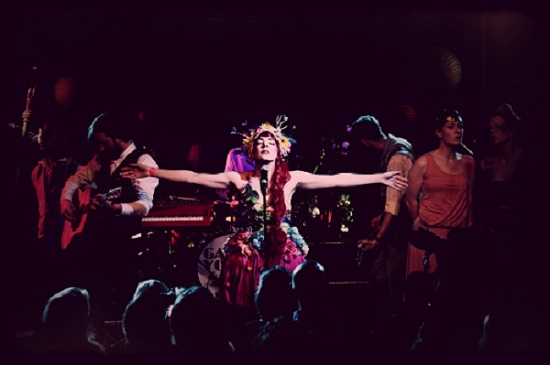 Roll up! Roll up! For London's Scala is decked out like a tawdry tart, complete with multi-coloured bunting, lanterns, balloons and a 'Gabberdashery' of clothes, cake and curios. There's even a town mayor and vicar to preside over a raffle, although the prizes appear to be limited to satsumas. This isn't a dramatic change of direction for the venue, but part of a growing trend in live music to deliver an event, rather than a show, and Gabby Young and her vast entourage of Other Animals have made sure that tonight – we have an event.
Similarly adept at thinking outside the box is support act, Revere, who have previously incorporated  styles as diverse as Klezmer, Balkan and gypsy music. Tonight things are more straight-up folk, beginning with a Nick Cave cover and proceeding to a few rousing anthems led by Stephen Ellis's beautiful, mature vocal that might have originated in a Welsh male choir, singing about hills and, er, mining and stuff.
And then, the sequined spectacle that is Gabby Young takes the stage, bringing no less than 19 Other Animals along to man the brass, percussion, and string sections. Her tour bill must be immense. She begins with 'In Your Head' from new album The Band Called Out For More, the musical equivalent of a high-speed dash around a circus whilst standing on a white pony. Young looks like the love-child of a burlesque dancer and a peacock, resplendent in an elaborately decorated headdress over her trademark, blazing-red hair. From there on it's a chronological stampede through the record, a series of high-drama, theatrical, music-hall folk numbers, their often dizzying diversity held together by Young's deep, velvety and highly accomplished vocal.
Things calm down somewhat for 'Male Version of Me' which is dedicated to "someone on this stage". Lo and behold it's Stephen from Revere! Cue much musical flirting between Young and Ellis, who seems to be as integral to this band as his own and who does a nice line in faux-Western guitar playing, particularly on the brilliant 'Horatio'. In keeping with the interactive-spectacle ethos, there's much audience participation, and quite a lovely moment when Young asks us to sit down so that she can sing to us. Part of a growing number of of artists such as Ane Brun and Camille, who exploit the theatrical potential of the live event, Young produces something engaging and impressive. By closer, 'Whose House', the audience are highly animated and a rollicking good time is being had by all.
Photo credit: Gem Hall