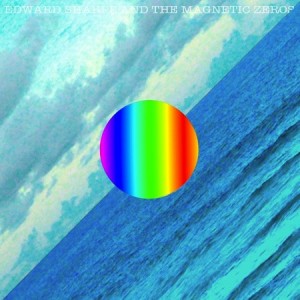 It's three years since the former front man of dance-punkers Ima Robot Alex Ebert rebranded himself as Edward Sharpe and joined up with the sprawling Magnetic Zeros to deliver an eccentric, magical ride of west coast psychedelia. Since then, in time Ebert has used to release a rather more restrained solo album Alexander, it seems the Edward Sharpe brand has evolved substantially.
Where Up From Below was a raucous, fun but often overly playful roller-coaster ride, Here presents a more mature vision of a band. They have dispensed with the anthemic, cut out the theatrical back-and-forth lyrics that characterised 'Home' and, well, gone a little bit country.
Opener 'Man On Fire' might still have the odd hoot and holler, but it owes as much to Johnny Cash as the Topanga Canyon. 'That's What's Up' then dissolves into a sing-a-long straight out of a southern church. The country-gospel themes are also expressed through more spiritual lyrics as on 'Dear Believer', Ebert declares "reaching for heaven is what I'm on earth to do" while 'I Don't Wanna Pray's lyrics are about something more than title might suggest.
Don't let me give you the impression they've jumped off the deep end – this wasn't recorded in Nashville with banjos and steel guitars while wearing huge hats. It is still unmistakably the Magnetic Zeros, the sprawling 12-piece band stamping the record with their trademark sound, still stuck in the late 1960s as it is.
The highlight of the whole record might just be the beautiful, sprawling 'Mayla', which owes as much to the traditional tribal rhythms of Africa as it does the Music City. Towards the end of the record, 'One Love to Another' and 'Fiya Wata' vaguely recall the grandstanding of their debut, but they are delivered deliberately half-paced, coming across more like an echo of a different time than a direction they have any further wish to pursue.
Instead, this a more humble, rootsy effort than its hubris-filled debut, which, delightful as it was, often suffered from being a little too brash. The less pretentious successor will take a little longer to crack but it also runs deeper and that can only bode well for the band's future.