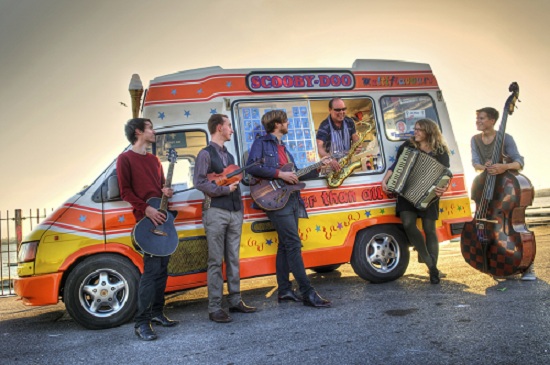 We were very pleased to discover Anja McCloskey, the girl with the big voice and even bigger accordion. Combining a traditional aesthetic with a quirky, alt sound, McCloskey brings an old-world gypsy romanticism to the 21st century. Last year's EP, Turn Turn Turn is a surreal, narcotic journey that makes you want to dance, and then lie down under a tree somewhere. Oh, and hear more – lots more. Luckily, then, her debut album will be out in September. Check out 'Italian Song' for a taste of things to come.
Hello, please introduce yourself and your music to the uninitiated.
Hi. I'm Anja McCloskey. I am a German-American singer and accordionist and have lived in the UK for the last 10 years. Currently I am based in Southampton.
Accordion is my main instrument, which I picked up from my grandpa, and I have been putting it to good use in numerous bands over the years, including The Irrepressibles and Haunted Stereo.
I started my solo project late 2010 and now have a band consisting of double bass, violin, accordion, electric and acoustic guitar. Although our music is sometimes folk-inspired, it is certainly not traditional. We have since released an EP and three singles, toured the US, UK and Europe and generally very much enjoy what we do.
Tell us a bit about your latest single?
'Italian Song' is the third single off my debut album, which comes out in September. It is a bit of a mad one really, it is about losing my rationality in the summer heat. It is very quick paced and a lot of fun to play. We are releasing it with a B-side remix by my label mate rude_NHS, too.
What was your best ever gig?
I like gigs that are a little off the cuff. We regularly play in unusual spaces and arts centres. I think my favourite gig so far was a gig we did two weeks ago at a place called Googies Arts Café in Folkestone. It is a wonderful vibrant place and the audience was so lovely and attentive. It is the first time we were asked to play three encores. Other favourites include the Yellowhouse Arts Centre in West Plains, Missouri. So far off the beaten track, but what a fantastic place. And also the Amnesty Book Shop in Brighton. We have many fond memories of our in-store performances there.
What's the worst thing about being a musician?
I love being a musician, so it's very hard to moan about it. I guess the biggest downside is never having any money and wanting to do so many things. But that's what busking is for I guess!
What inspires you?
People inspire me. I love my friends and family and being with people and having a wonderful time can really lift my spirits. I also suffer from a very vivid imagination, so good stories, films, music, anything with an inspiring fantastical element will get me going. Musically I don't have a very specific taste, but there are certain artists that I can listen to over and over again.
If you won a billion pounds what would you do with it?
Weirdly I was discussing this question just the other day. I think I would buy myself a house in the countryside with a recording studio and put the rest in my bank account to lead a modest life, which would enable me to focus on my music full time. I might also indulge myself a little bit and buy some more accordions. Maybe a lighter one, so that I am not going to be crippled in ten years' time. My current instrument weighs around 50 pounds…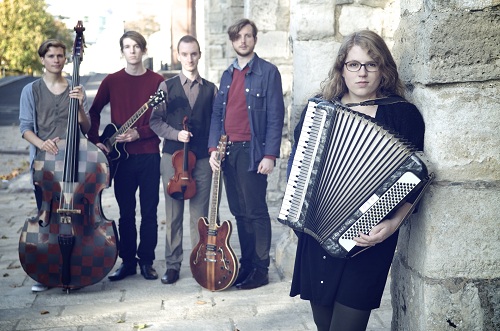 Which of your songs is your favourite and why?
Hm, a tough question… My favourites change. Some songs I have developed some distance to over the years, as I am not as emotionally involved with the subject matter as I used to be. But there are some, which have survived being played hundreds of times at gigs. I guess 'Newton', which is on my Turn, Turn, Turn EP, could be my favourite. It was actually the first song I wrote on the accordion for my solo project and I am really proud of the recording as well.
What are you plans for the future?
We have a really busy year ahead. Our debut album comes out in September on Sotones Records and we are playing lots of gigs to support the release. I would also love to go back to the US to tour again. We are currently looking at 2013. I guess around that we will be fitting in lots more song-writing, recordings, releases…
Finally, we're always looking to expand our musical horizons. Do you have any recommendations of bands or artists we should be looking out for?
I love my label mates Etao Shin. I think they are an amazing band, really eclectic and innovative and lots of fun live. We are doing a joint UK bookshop tour in June with them, and I think they are definitely worth a listen. Other bands that I currently have on the CD player are Keaton Henson, Yann Tiersen, Pepi Ginsberg, Sharon Van Etten, Shenandoah Davis, Lonely Joe Parker, Calico Cat, Moulettes and many many more.