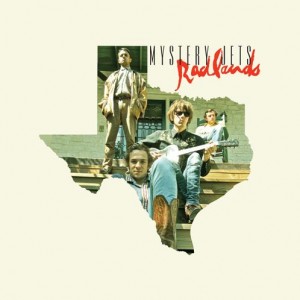 According to the Mystery Jets' latest album opener, when we die we'll end up in a 'horseshit-shaped hole in the sky'. It's a number that sets the tone for an LP than bridges the gap between the band's legendary aptitude for partying, and the existential questions that keep many awake at night.
This is a band that has soundtracked many a night out – when I managed a student radio station, second album Twenty One was a staple on the airwaves for the entire academic year. Now, it seems the band's own party is starting to get to that stage where everyone starts to come down, finding a spot in a field to lie down and stare up a sky, thinking about 'life, man'.
The Mystery Jets aren't scared of dying, before you ask. It's more that the whole process seems so pointless – if there's nothing out there 'beyond the stars' (Lost in Austin), then why care or carry on? It's no surprise that this album was influenced by the results of dabbling in hallucinogens (singer Blaine spent 15 minutes thinking he was a porch whilst tripping on legal high Salvia). There's a reflectiveness not previously explored before.
In terms of musicality, the band doesn't appear to be aiming for a full dancefloor. This is an album with intricate acoustic numbers (Take Me Where The Roses Grow, Luminescence), quirky, low-key character-driven tunes (Sister Everett)
and large-scale sing-alongs (Radlands, Someone Purer, Lost in Austin) with gorgeous melodies. For all their philosophizing, the band doesn't break new ground lyrically. Rhyming couplets can be spotted a mile off, but the bigger melodies, which feel comfortably familiar after the first listen, make this a sturdy piece of work.
Radlands might not be an instant classic, but it's certainly a worthwhile soundtrack to your future contemplations. So grab a copy, find a field and have a think…
Words: Frankie Ward