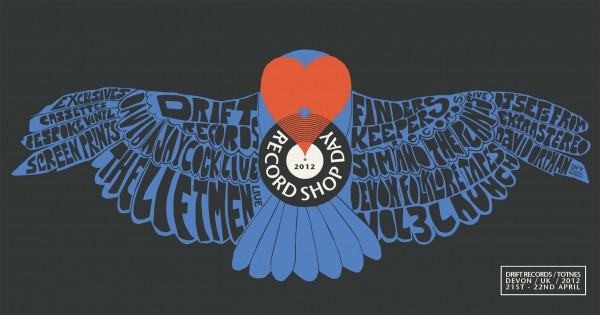 Rupert Morrison runs the Drift Record Shop in Totnes – a Devon town in between Plymouth and Exeter. We caught up with him about returning to his hometown after living in London, his plans for Record Store Day and how he's living the dream.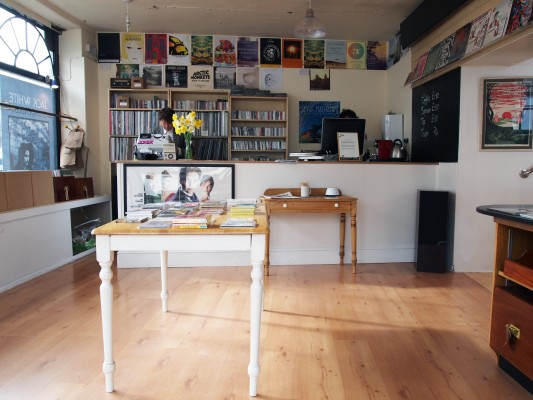 FFS: You used to live in London, did you work in music or something different altogether?
Rupert Morrison: I ran the Drift label half way between Totnes and London (figuratively, not literally… literally would be Salisbury I think) and I did eventually move to London full time. I needed to work on something that brought in money (as the Drift label was a huge money pit) so a good friend at RAK (Big studio, responsible for many brilliant albums and most notably 'Hot Chocolate') suggested I get in contact with Loose Music as they and I had some common interests.
I ended up working for Tom at Loose for a good long while. Other London jobs included head of booking at a children's modelling agency, working on the Harrods website and label managing for Dego (4Hero) for his 2000Black label. In the six months we worked together we had some meetings, shipped stock between my house and his house and released not one album. I was also doing the buying for the little record shop I owned with my parents in Devon.
What made you up sticks and move to Totnes?
I grew up here so it was more of a move back to the sticks. I think banging on about how 'full on' London can be is just shooting fish in a barrel. I never had enough money, I was always getting the train from A to B and I stopped going to gigs as I was too lazy.
Drinking at the French House, the amazing free art galleries and going to gigs was all I liked London for, so when all three of those stopped happening we knew it was time to move back to Devon…. take it easy! My wife and I both grew up here so it was not a hard sell.
How long ago did you open Drift? What made you take the leap and start the business?
I worked in the preceding business when I was a teenager. It was video rental and world music. My parents suggested we buy it nine years ago so we did. We re-branded it Drift Record Shop as you do literally have to write "RECORD SHOP" on the front of a building or people don't seem to understand what it is. We've then spent the last nine years getting better at stocking and selling records.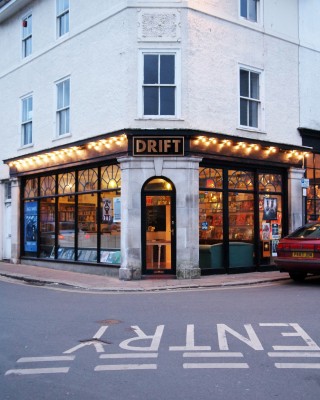 What's your shop like? Who works there? How do you choose what to stock?
For the last nine years it has been the size of a living room with every single corner rammed full of stock. We've just moved to a much bigger airy new shop and now it is like three or four living rooms… with loads of windows and even more vinyl all over the place.
I work a couple of days a week, my Mum works a couple of days a week, My Dad does the books, then I've got some great people who work here. Hannah has been friends with me and my wife since we were all about 13, she is brilliant illustrator and partner to this musical genius. Matt has his band (Matthew & Me) who are starting to do very well for themselves and I also have Emmy working for me… she is 17 and has limitless potential.. very clumsy. I do the buying, and I do kind of consult them all… I mostly just follow my gut though.
How do you make it work financially? Do you get lots of your sales online or mainly in the shop?
We're lucky with where we are, Devon is huge and there are very few record shops (maybe four I think?) so we do get a lot of admirers. I think it comes across that we love doing it, so it's a nice space for people to spend time (particularly since we got bigger and serve coffee). We do sell online and that helps with the extra few customers a day, but the bulk of the shopping is in the shop. Proper.
Tell us about the record label side of things…
Loved doing it, very proud, worked very hard, still very proud, bands had high hopes, was quite naive, the bills got bigger, worked very hard, stopped enjoying it, bands didn't become as famous or wealthy as they expected, felt like I'd let everyone down, bills got worse, stopped doing it. Just about paid it all off, still speak to some of the bands.
It is a really hard thing to do and I have endless praise and good will to people that get it right. I guess I am just not the right sort of person, I never quite got it right. I did however release an album called "Finish Your Chips" By Matt Eaton and I still believe it to be one of the finest albums I've ever heard.
What are your plans for Record Store Day?
We have loads of brilliant releases for the day, plus I have been stockpilling some treats for the last six months so we're going to have some amazing racks on Saturday. We invited Finders Keepers down to Devon for the day and we're thrilled that they said yes. We have The Liftmen, David A Jaycock and Sam and the Plants playing instores also plus a big old night of record playing in the shop… There'll be headaches on Sunday.
See the full info about RSD at Drift on their blog.  
What RSD records are you most excited about? Will you be buying any for yourself?
Yep, I do buy stuff but I am pretty good about not cheating. I put it on the racks, give it an hour, then I buy it like any other customer in the shop. It'd be pretty scummy if I kept all the good stuff! My list includes; Pelican,Velvet Underground, Richard Hawley, Jonathan Wilson, Satanic Rites Of Dracula, Bo Ningen, Blitzen Trapper, Lee Hazlewood and mostly Townes Van Zandt.
What're your current favourite records?
I saw The War On Drugs play at SxSW and I am back into their record in a big way. The new Spiritualized LP is a belter. Other things I have bought recently; Simian Ghost, Lotus Plaza, Hush Arbors/Arbouretum, Daniel Rossen, Luke Roberts, Symmetry, Palace Brothers re-presses, A Musica de Edu Lobo por Edu Lobo, Pontiak and Lambchop.
It really seems like you're living the dream – running a record shop somewhere lovely – does it feel like that to you?
I was complaining the other day about something and I released that my argument was floored and I am actually truly living the life of Riley… I think it dawned on me as I was drinking beer at midday in my office listening to new music for a job… ha ha.
I love what I do and I think it comes across in what we try and do with the shop. Honestly, it is not always easy and some days you're just stood on your own in a record shop looking at an empty till… but you have to remain pretty Field of Dreams about it all and just keep on keeping on. In this day and age buying records is far from a necessity, so, if you're going to do something wrong… do it right!
Thanks Rupert! We're off to wrack our brains for an excuse to get down to Totnes.
If you're there, you can find Rupert's shop at 91 High St. And we highly recommend the Drift Record Shop website and blog for some shopping and solid recommendations.