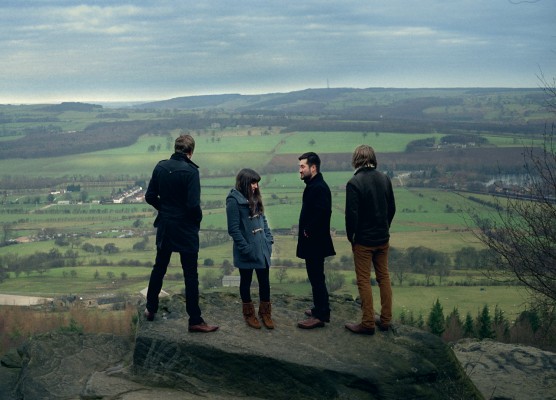 First of all, we should admit that our headline isn't entirely accurate. This is an interview with Ellen, but there were no Escapades present. We didn't talk about them behind their back though, at least not too much, choosing instead to focus on the upcoming release of debut album All The Crooked Scenes, the long road the band have taken to get this far, and where they can go next.
FFS: How does it feel to finally be on the verge of releasing your debut album?

Ellen: It's really exciting. It's taken us quite a while to get around to making this into a full album. We were recording it back in August and September so it's nice to have it finally finished.
Does the end product sound like you always imagined it would?
Obviously we'd been working on quite a lot of the songs for a long time before we went into the studio so we knew what we wanted. We worked with a producer called Matt Peel, and he really pushed us along and made us try new things that maybe we hadn't thought about before. But it turned out like we all wanted it to so we're very happy with it.
You've re-recorded a lot of your old singles to give them a fresh sound for the album – what made you want to revisit them?
The album is a mixture of stuff, EP tracks, singles and other things, and a lot of that stuff we recorded quite early on, when maybe we didn't really have a lot of experience. They sounded alright, but we never really though we'd captured them as we wanted to them to sound. Doing the album gave us a chance to work on things a bit longer and give them a bit of a new identity. They sound so much better than they used to.
Do you have any particular favourites on the album?
I think the title track sounds really great. We got a guy called Ben Hillier to mix it. He's worked with the Villagers and Blur so he put a bit of a spin on it as well and it sounds really, really great. There's another track on there called 'Cast' that we hadn't really finished writing when we went into the studio so we didn't know how it would come out, but that sounded really good too.
You used the Pledge website to raise money to make the album, and far exceeded your targets. Did the reaction surprise you?
Yeah. I think we always thought we'd reach our target because we tried to be quite realistic with what we wanted to do, but we had no idea we'd go so far beyond it, or that we'd reach the target in only eight days. We didn't expect it at all, and it was really nice.
How useful is something like Pledge for emerging bands making their first album?
They're great. You can do whatever you want, no matter how big or small – you're project is down to you to run it. For a band just starting out it's fairly easy to arrange your budgets so you can get into the studio. It's a really cool idea.
You've just come back from a huge tour where you played 18 venues in 19 days and reached almost every corner of England. How did you enjoy being on the road for so long?
It's been really, really good. It was quite surprising, we played some venues where we were pushing 200 people and then others where there were less, but we never played to a near empty room, even down in the south west in Cornwall. We've done a few festivals down there before but it was really nice to get out to these places again. In the past we've maybe done tours that are about five days at a time, but to get out for three weeks as a band was really good for us, spending so much time together.
Putting out the album is going to cap a pretty special year going back to the featival appearances at Green Man and Glastonbury last year, isn't it?
It's been mad. We've been able to do loads of things we've always wanted to do and been really lucky. When you're into it you just get your head down because you know what you need to do, but looking back it's been an amazing experience. Once the album is out, we'll be ready to take the next step.
And what will that be?
Ideally, one day we'd like to be able to make a living from what we're doing but that's a bit of a way off. It would be really nice to be able to do it full time so we can keep playing for people and do more festivals.
Amid everything else that has been going on, you've had a change in the band with Andy leaving and Gary replacing him on bass. What was behind that, and how has it affected you with the album release so close?
With a lot of bands, sometimes things don't work out, and we felt as though it was the right time to ask somebody else to come in and play with us. It's been a lot of fun. Gary does a lot of his own solo stuff and in a few different bands, and he's not actually a bass player, but he'd stepped in and helped us before when Andy was ill. So we asked him to come back and it's been fun. We'd like to thank Andy though. We're absolutely fine and everything's been great.
All The Crooked Scenes is released on April 16. You can hear the title track and new single below.