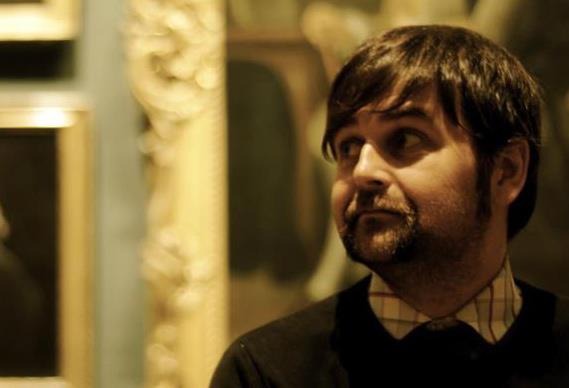 Alex Highton is not your typical 'rock star'. A devoted, Liverpool-born family man who has shied away from city life to enjoy the charming Cambridgeshire countryside, what sets him apart from his fellow countryside neighbours is his talent to create witty, thoughtful songs that scream out to be listened to. FFS caught up with Alex to discuss his debut album, his Hollywood fan base and the music that inspired him.
Hello, please introduce yourself and your music to the uninitiated.
Hi. I'm Al. I recorded an album called Woodditton Wives Club, which mostly charts my move from London to the Cambridgeshire countryside. Having grown up in cities, I knew nothing of rural life and amazed myself by falling in love with it. It possibly stopped me going crazy, having "lived" London a bit too much. Also, the stuff that goes on in this village……well you wouldn't believe it. Here's not the place, but we could discuss it over a pint in The Three Blackbirds.
What artists did you grow up listening to and who most inspired you to pick up a guitar and start playing?
My dad has an amazing record collection, which I would devour whenever I went to visit him in Italy, and through this I discovered Tim Hardin, David Ackles, Tim Buckley, Talking Heads, tons of amazing stuff. My mum had this James Taylor record Walking Man that I played and played and still love. I found a Nick Drake album that never came off the stereo, Beach Boys, The Stooges, Velvet Underground, the Beatles… Just a lot of old music really… And Singin' In the Rain. I love a good musical.
As for starting to play, that was all down to an old Beatles chords book my dad gave me. One day, I just picked up the guitar and started trying to play the songs. I've hardly put the thing down since. Drives my wife mad.
Growing up in Liverpool where such iconic musicians have emerged from, did you ever feel any pressure to emulate their success when you began making music?
Not really. You can't escape The Beatles at home and to be honest I wouldn't want to. I don't suppose it's particularly trendy to cite them as an influence these days, but to say that they did some amazing work is a massive understatement. So how could you ever think to compare yourself? The truth be told, I express myself way better through song-writing than I ever could any other way. So it's never been about success. Not that I don't want people to hear the songs, on the contrary.  It's just that I'll be writing them anyway, whatever happens or doesn't happen.
Your music has been championed by none other than Hollywood star Ashton Kutcher. How did you feel when you found out you had such a famous fan?
Dead weird. It just came out of nowhere. I was already having a really good response to the demo's I'd put on Myspace. Then I go away for a weekend, come back, and find out I've had 60,000 Myspace plays! I'm forever grateful to him because he didn't need to do that. He had no agenda; he just liked it and decided to tell everyone. The response to his support was so positive that it started me off on the path to recording the album properly. So Mr Kutcher, thank you very much!
What was your best ever gig?
I played a show for The Local at SXSW in March last year with This Is The Kit, She Keeps Bees, Oh Ruin, David Thomas Broughton and Josh T Pearson. That was right up there. They wouldn't serve me a drink because I didn't have any I.D. The enormous moustache and photos of my kids didn't help either. It's a weird place, Texas. There was a guy sitting next to me who was about sixty and also couldn't get a drink. So there we were, me and him, drinking coke.
What's the best and worst thing about being a musician?
The worst thing is going off travelling and missing my family. I love being at home in the village, with everyone around me. I live pretty much next door to the pub as well. The best part is writing songs. I can't write prose; I've tried. I can't dance; I've no balance. I'm not a great actor. The list of things I can't do goes on and on. So to be able to do something good, that people seem to really like, that's massive for me.
Finally, we're always looking to expand our musical horizons. Do you have any recommendations of bands or artists we should be looking out for?
You mean people that are alive? I've listened to Oh Ruin's EP quite a lot. That's very good indeed. My very highest recommendation though is for David Ackles, the only artist I've ever become obsessed with. One of the few to write songs that have brought tears to my eyes. He's dead, which is a pity. But you can't have everything.
words: Carly Goodman
Alex Highton Live Dates:
Apr 01 Norwich Arts Centre, Norwich
Apr 03 Slaughtered Lamb, London
Apr 04 Portland Arms, Cambridge
Apr 05 Manchester Deaf Institute, Manchester