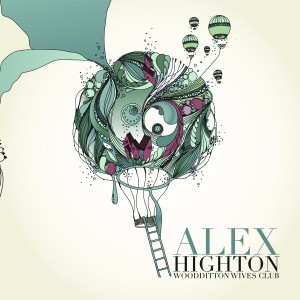 Alex Highton's debut album Woodditton Wives Club is a stark portrait of what modern day Britain is really like. Released at a time when spirits are low and community spirit is almost non-existent, Highton manages to create some light-hearted relief in the form of musical tales of city and rural life.
The result is wonderfully romantic, linking in lush melodies and Alex's charming vocals and the opening number, 'You've Got The Trees' is the perfect example of what is so appealing about this album. Another romantic highlight is the closing number, 'Little Rocks'. A dreamy tribute to his wife, we experience Highton at his most thoughtful.
One of the greatest things about Highton's music is his ability to make songs about such dark subjects as drug abuse and heartbreak without completely depressing the listener. With songs such as 'Kids on the Corner', Alex accompanies the issue of drug problems on the streets with that trademark 'Scouse wit' which results in a weirdly amusing musical moment. It is Highton's knack of fusing such polar opposite elements that makes this album so memorable.
Highton's calibre as a musician is evident throughout the record. Beautifully simple acoustic guitar melodies perfectly accompany the deep lyrical content on display. The addition of brass and strings creates a richer sound which is what Highton's sincere lyrics deserve. At times bluesy, at other times straying into pop-folk, this album manages to explore many musical avenues without sounding forced.
Witty, charming, candid…the list goes on with how to describe Woodditton Wives Club. Even though we have male singer-songwriters coming out of our ears at the moment, there is definitely a place for Highton's thoughtful numbers. Romantic and honest, this album ticks all the boxes for those of you wanting a simple, sincere musical experience. Lovely stuff!
Words: Carly Goodman