It's an uncharacteristically beautiful Friday evening as we hot foot it down the A23 to Brighton for the most exciting new music festival of the year, The Great Escape. We may have missed a cracking first couple of days, but we're determined to fit as much folk and folk-related loveliness into 36 hours as is humanly possible…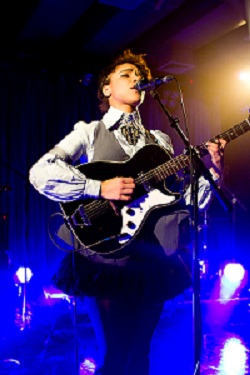 First on our whistle-stop tour is the Kommedia Studio Bar for the gorgeous Lianne La Havas, who more than lives up to the hype.  She may be as cute as a button with her trademark ice-cream hair, but there's nothing frivolous about the music, with its sophisticated melding of jazz, soul, blues and country. This latter influence can be found on the twangy guitar riff of 'Tease Me' over which Havas's vocal ebbs and flows – slightly smoky, immensely mature and with a restraint and emotional depth that belies her 22 years. 'Age' highlights a playful side and gift for combining fragility with humour. There's the tongue-in-cheek jauntiness of the Ditty Bops in the melody and the irony of Amy in the lyrics, "I know this other guy but he's….old enough to be my father/So he's not the one for me/ Cos I fancy younger men." A cover of Everything Everything's 'Final Form' is another highlight, taking an already brilliant song and giving it soul. With her debut album out on Warner in August, it won't be long before this lady goes stellar.
Armed with our Great Escape map and London know-how, we confidently head out into the night, only to get utterly lost somewhere in The Lanes. TGE may be a marvellous feat of organisation in every other aspect, but the festival map is as useful as a chocolate teapot. We opt for Plan B, which is to tag on to some passing Irish delegates, finally ending up in a sticky-floored basement for the distinctly non-folk NZCA/Lines (who is so ace we'll let him off). Terrified of getting lost again and ending up in Hove, we devour a 1am fish, chip and beer supper, and call it a night.
Refreshed and raring to go the following morning, we stroll off in good time for Admiral Fallow, chatting excitedly about how cool it'll be to see a band on the pier. Unfortunately, failure to check the 'Line-Up Changes' list sees us legging it across town in the unseasonal heat to Warrens, where an enormous queue has built up. Thankfully we get in just in time and are soon packed into a sweaty performance hall while the 6-strong Scottish Fallows sail us away on a sea of heart-warming folk.
After starting with a whisper, things rev up on 'The Paper Trench' with its driving, late-Idlewild feel and beautiful male-female vocal harmonies. Sarah Hayes wields an accordion with aplomb and gorgeous layers of sound create the feeling of a Scottish village in springtime. Lead singer and guitarist Louis Abbot has a light, mellow tenor, a little like a Scottish Zach Condon, and is pretty funny to boot. Things start to get a bit kumbaya on 'Isn't This World Enough' so, noting that the guitarist looks a bit like Jesus, we wander outside to discover a mini-festival style garden complete with beer tent. We throw ourselves on the grass and rave about how well we're doing with bands thus far.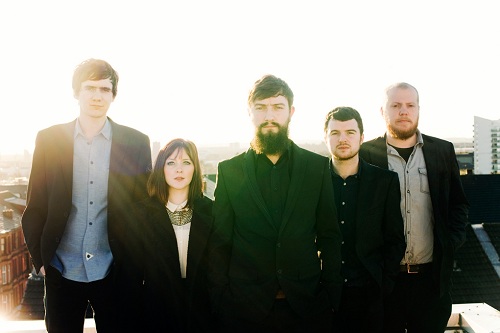 After the afternoon hiatus it's off to church for Karima Francis and Her Hair, which should surely get a tag all of its own (it's remarkable, and stands out around her head like a dandelion in full bloom). Like La Havas, Francis is outstanding, and well worth the buzz, although the beauty of her voice lies in its slightly untamed quality and how it's clearly strapped to a heart worn on her sleeve. Often agonising to listen to, Francis means every last word as she sings about impossible relationships on 'Glory Days', or pays tribute to past loves on 'The Author'. She's adorably humble between songs, seemingly amazed that we've all turned up to listen to her. Looking like a little Bob Dylan in a snappy shirt and jacket, Francis is an uncompromising and welcome alternative to the more  saccharine folk stereotypes. This girl is a tiger cub.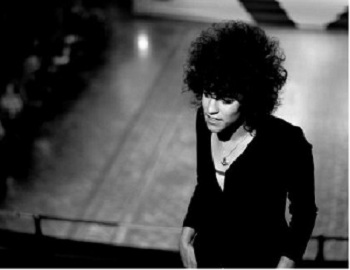 Sadly for us, The Gods of Decent Music desert us at exactly the moment we decide to see festival favourites, Alabama Shakes. Arriving an hour early, the queue is already gargantuan and we don't stand a chance of getting in – not even after waving our passes shouting, 'But we we're with FOR FOLK'S SAKE – don't you know who we ARE?' Bizarre. Confused and disorientated, we decide to go see We Are Augustines at The Psychosocial Basement, inadvertently catching a metal band on the way (Maybeshewill – they were quite good). On record, WAA sound like they just might make it onto a website for folk music, but live are four rowdy boys thrashing their guitars for all they're worth. This isn't necessarily a bad thing but some appalling sound renders the lead vocals inaudible and the guitars are a fuzzy mess. We leave at about the time a half-empty beer can lands on our heads, admitting old age and defeat. We'd like to go and catch the end of Slow Club, but frankly can't face the mental challenge of getting there.
A beer and a post-mortem on the beach a little later reveals the rather ambivalent score of Folk Win: 3 / Folk Fail: 3. But surely the beauty of festivals is how the best-laid plans often go up in smoke, beer and a bad map, and you never quite know what you're going to hear? Nodding sagely to one another we agree that it's been A Very Lovely Time and we can't wait until next year. Only maybe time we'll bring some kind of NASA-level navigational equipment. Or a chocolate teapot.