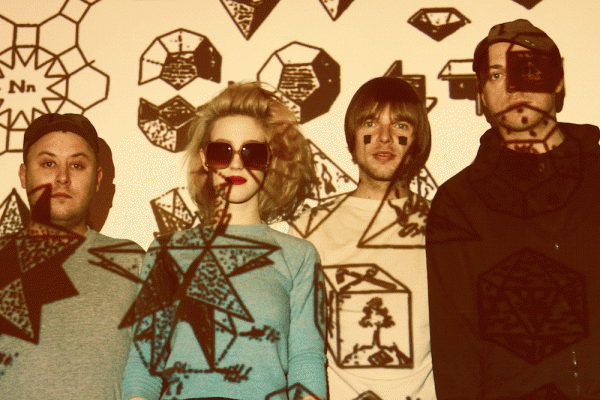 What a silly name Beth Jeans Houghton and the Hooves of Destiny is. It's a good job that we are fond of silliness, and that they're really good. Their recent gig at Hoxton Bar and Grill opened with a set from the lovely Goodnight Lenin. They enchanted us with complex harmonies and storytelling lyrics, though their black-trousers-and-white-shirt outfits gave them a hint of 'overgrown schoolboy' which didn't do them justice.
Beth has a teeny little frame which is offset by her enormous candyfloss hair and her enormous, mischievous character. While her lyrics are undeniably curious (who can honestly say they've dreamt of dodecahedrons?) the hearty melodies on her album 'Yours Truly, Cellophane Nose' make some of the songs surprisingly emotional. We may be prone to getting teary but still, being able to make us feel warm and fuzzy inside while singing 'Lilliput your hand in mine' is a pretty special skill.
The Hooves are a funny bunch. One looks a bit like he should be in a ska band, one is more indie, one like he might be in The Bees and finally there's a violin who is a doctor by day. Throw Beth into the mix and you've got quite a variety of tastes (we're assuming – apologies to the band if actually they all exclusively like Steeleye Span or something) which might explain how their genre is so hard to pin.
Let's just not pin it at all. Beth and the Hooves make full, rich music with rousing tunes and nonsensical lyrics. Her vocals rumble then soar in all the right places, and their accompaniment and harmonies frame them beautifully. The newest single, 'Sweet Tooth Bird', is a great showcase for all of this, with its marching drums, trumpets and frantic, chanting middle bit. To finish, the band was joined by Goodnight Lenin, and together they managed a spectacular cover of 'Like a Prayer', complete with the boys doing the gospel choir's parts, a mirror ball and a dance contest. Madonna herself would have approved, and we bloody loved it.