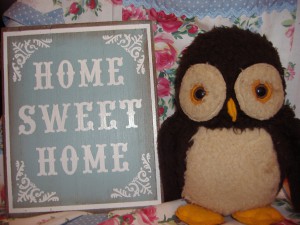 Some of our more dedicated readers might be wondering what the eff is going on with our Brian.  He's become somewhat lackadaisical about his playlist-composing duties lately, and we suspect he might be, well, having a hoot elsewhere.  If anyone spots him around town doing anything that seems even slightly irresponsible, please contact lynn[@]forfolkssake.com or helen[@]forfolkssake.com and we'll be after him with a net and a pillowcase.
Eager to prove that he isn't misbehaving and thusly leaving no time for his weighty responsibilities, our owly companion has come up with a lovely selection of 'songs that are new'.  These are all, he assures us, tracks from albums released since the start of 2010.  So bask in the brand-spanking-bright-as-a-button-shiny-newness of it all, and try to have faith in Brian.  It's all any of us can do.
Eels – The Beginning
Adam Green – Cigarette Burns Forever
Erland and the Carnival – Gentle Gwen
Beach House – Lover of Mine
Midlake – The Courage of Others
Laura Veirs – Wide-Eyed, Legless
Tindersticks – Peanuts
First Aid Kit – A Window Opens
Nick Cave & Warren Ellis – Home
Charlotte Gainsbourg – Le Chat du Cafe des Artistes
Shearwater – Wedding Bells Are Breaking Up That Old Gang of Mine
The Magnetic Fields – Seduced and Abandoned
Here's the Spotify link for y'all: Brian's Mixtape #23: Bring in the new
If you've not got yourself registered on Spotify have a look at their website to learn more. And, if you need an invite (so you can use Spotify for free) let uncle Brian know in the comments section below and he will bestow one on you.
Have a flap around our mixtape section to find Brian's previous efforts.