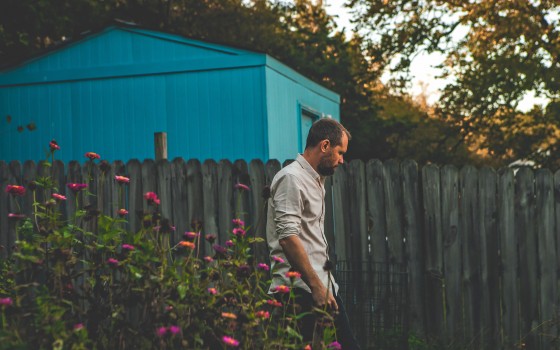 Matthew & the Atlas are ready to return with their fine new record Temple, which is due out on April 22 via Communion. Written in his home studio in Farnborough but recorded in East Nashville with electronic folk duo Foreign Fields on production duties, Temple is Matthew Hegarty's most personal work to date. Fans of his debut album, 2014's Other Rivers, will notice a more stripped-back feel to the follow-up as Matthew returns to his song-writing roots, and to give us an insight into the sounds that inspire him, he's compiled for us this lovely playlist to help pass the time until his album hits the shelves. Over to you, Matthew…
Joanna Newsom – Sawdust & Diamonds

This is the first song I ever heard of Joanna Newsom's. It was playing on the radio in a hotel room I was staying in. I remember stopping to listen to it because the harp playing was so fascinating, then the track just kept on going and going, you don't normally get nine-minute songs on the radio, it was so immersive. Afterwards I felt like I had journeyed through this little world for a short time, it was very effecting. That's the thing with her records, they're dense and complicated, and you get more and more from them with repeat listens.
Fionn Regan – Snowy Atlas Mountains


Fionn Regan is a great lyricist and this song in particular really transports you to another place. I think that's what I'm looking for in music, another world you can inhabit for a short time. There is something really mysterious about this track as well, it's like he knows something I don't, or like he is looking at the world through a lens I haven't used before.
Jackson C Frank – Blues Run The Game
Jackson Frank isn't as well known as he ought to be, he has influenced artists from Paul Simon to Nick Drake. He had a pretty tough life, riddled with bad luck and suffering from mental health problems and depression he died at just 56. 'Blues Run the Game' is his most famous song, from his one official album, which is well worth checking out.
Sufjan Stevens – For the Widows in Paradise, For the Fatherless in Ypsilanti
I've had Carrie and Lowell on repeat for while now, but I chose this song, as it's one of the first I heard of Sufjan's. I love the way he uses the banjo, to me it's a really mournful instrument and he always seems to bring out this wistful kind of sadness in it.
Bonnie Prince Billy – I See A Darkness
Master & Everyone is the first album I heard of BPB, it was the quiet composure that really drew me in, along with these unsettling undertones, which I didn't quite understand. After that I bought I See A Darkness and I think the title track is the epitome of that, there is so much going on emotionally in the song. It's ultimately beautiful, but it walks the line of being unsettling and dark, yet also uplifting. Very confusing.
Nick Drake – Road
I got into Nick Drake when I was in my teens, which then led me on to people like John Martyn and Richard Thompson. There was always something otherworldly about him; his songs had this ethereal quality. I think Road is my favorite of his. I listened to it a lot when I was backpacking in Morocco. Whenever it comes on it takes me back to a sweltering hot coach, on a winding road from Marrakesh heading up to Todgha Gorge in the Atlas Mountains.
And now you're done listening to all of that, enjoy this early taste of Temple.