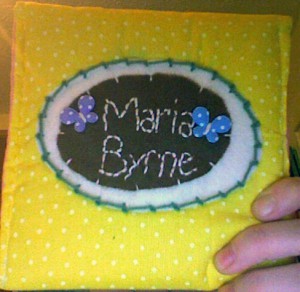 Imagine FFS's delight when we received this beautiful hand-stitched CD cover in the post.  Causing FFS's other half to comment rather cynically "She's got you figured out".
Well perhaps she has, but that doesn't alter the fact that the EP inside, All You Need, is a lovely slice of upbeat acoustic folk-pop, produced by Karl Odlum who has previously worked with FFS favourites David Kitt and Fionn Regan.
Check out Maria's MySpace for more.
On top of her wonderful music and superior sewing skills, Maria has also commissioned friend-of-FFS Anika Mottershaw to produce a video for her, which we think shows she's a woman of great taste, too.