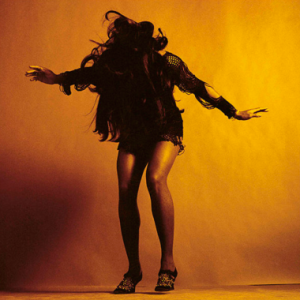 Everything You've Come To Expect is far more experimental than anything we've seen from Turner or Kane separately or together, bordering on some Baroque pop concept album in the style of a punk rock David Bowie.
At times, it feels like a theme for a James Bond film, with Nancy Sinatra vibes. This is mostly driven by Turner's crooning on tracks 'Miracle Aligner' and 'Everything You've Come to Expect'. Combined with the groovy, psychedelic string arrangements by Owen Pallett, it's not hard to picture yourself driving down the Pacific Coastal Highway in California with danger in the rear view mirror. The partner videos for singles 'Aviation' and 'Everything You've Come To Expect' show Kane and Turner on the beach in some sort of love-tryst driven turmoil with a gorgeous femme fatale and her mafioso husband. It's the perfect setting for these songs to play out.
Although Everything You've Come To Expect is distinct and wears its influences less obviously on it's sleeve than 2008's The Age of Understatement, there are certain elements that recall Turner's projects past. The closing number, 'Dream Synopsis', the title of which sums up the sound accurately, seems like it could have been cut from the Submarine soundtrack. Other songs, such as 'Dracula Teeth', recall Arctic Monkeys B-sides from the days of Suck It and See. There are rich and melancholy harmonies, post-punk revival guitar riffs, and solid bass lines throughout the album. Turner brings his trademark poetry to the lyrics as well, with references to things as obscure as a "colourama" – a backlit display screen made by Kodak for public advertisements from the 50s to the 90s. The experimental play with words takes the lyricism to another level – Turner makes the phrase "dracula teeth" sound like the word "jocularity." Not to mention, Turner and Kane bring on the raunchy seduction that only two reformed Sheffield lads could pull off, with lines like "I ain't got anything to lick without you, baby."
I must admit I've been waiting for this album on the edge of my seat since Alex Turner and Miles Kane first teamed up and debuted The Age of Understatement in 2008. It was absolutely better than anything I could've expected and anything BUT what I expected.
Writer: Haley Velletri