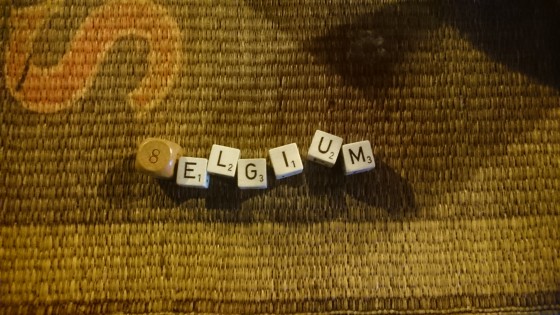 Yesterday, we caught the ferry from Dover to Dunkirk. Because we're total squares, and I was worried about hitting any sort of traffic, we arrived at the port a good 3.5 hours early – which meant we caught the earlier ferry. Tidy. My mum had baked us a lemon drizzle cake for the journey, which we had on the ferry with a cup of coffee and felt like effing kings. Then, when we got to France, I levelled up my driving one more time by driving on the wrong side of the road. It wasn't that hard, everyone else was doing it.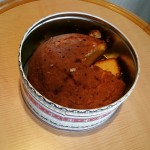 It took about a 2 hours to drive from Dunkirk to our first venue in Belgium, which was by a beautiful canal on the outskirts of a town called Mechelen. When we started driving down a dirt road by a canal, Patrick thought the sat nav had mucked up, but it hadn't. Predictably, we arrived at the venue 4 hours earlier than we were supposed to… So we tried a little Belgium beer, soaked up the atmosphere and I tried to teach Patrick some card tricks, but I don't think drummers have the dexterity for sleight of hand TBH.
Our show was great, it was super cosy with a fire burning and the whole bar listening and joining in. It got a 'tiny' bit awkward when we ran out of songs to play and they wouldn't let us stop… But I don't think anyone noticed… *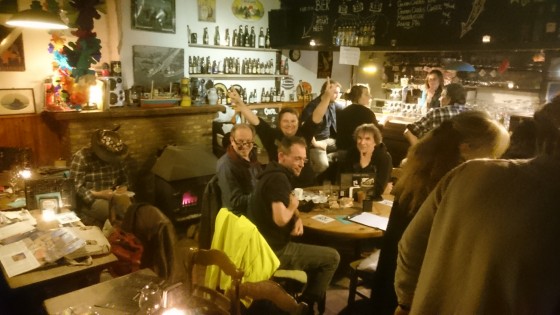 We stayed at the flat of an artist called Ingrid Veerman who lives near Antwerp. She was super friendly, and a lovely host. There were so many elephant decorations in her home, I had to mention I used to work for an elephant conservation charity – so that's one thing we've got. I think we might have converted her into a tea drinker, I'm to send some Yorkshire Tea to say thank you.
In the morning we started our drive to Germany, and while passing through The Netherlands, we decided to stop for a big breakfast. So, right now, we're in an incredibly trendy cafe in Eindhoven called 'Meneer De Boer' which feels like it should be in East London, and I'm writing this before we set out for Germany and our second gig in Cuxhaven. Bring. It. On.
*They definitely noticed.
Words: Joe Innes