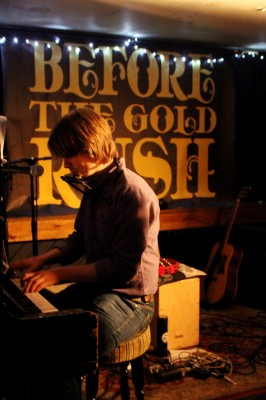 Before The Gold Rush is a London club night with an uncanny knack for discovering and nurturing great new acts like Sophie Jamieson and Worry Dolls. We've got Steve Watson from BTGR to tell you more…
Hello For Folk's Sake readers. It's with a lot of pleasure, that I bring to you what will become the first entry into a regular contribution regarding Before The Gold Rush, the monthly London folk and Americana live music night.
If it's new to you, don't panic, I'll explain everything… quickly. I've been running the night for a couple of years with my partner in crime Nina. Along the way we've met so many wonderful musicians and had so many air-punchingly positive experiences listening to fantastic new folky artists and bands that you should hear about.
We run a full band electrified amplified loud version of Before The Gold Rush on the last Friday of every month at The Fiddler's Elbow. Then on monthly Wednesday nights we do the same kind of thing but reduced in volume and scaled down to fit inside a very civilised coffee house/eatery called The Haberdashery.
Our next event is this Friday 30 May and is the full on big night. We like to start off somewhat delicately, and then progress along a course of folky goodness that ends up somewhere in the vicinity of a rowdy and raucous get-your-knees-up-and-dance affair. After all, that's what Fridays nights are for.
This Friday we have four acts we think you will dig (is that still a relevant phrase?) Ah, yeah, so our opening act is the very talented Sophie Jamieson who will be performing her uniquely haunting folky noir style music with her live band. We've known Sophie well for quite a while now, and can say with certainty that she is one of the hardest working musicians in London, gigging relentlessly. And she gives the best hugs. Both these elements are really paying off for her and the boys in her band, as they are gaining a lot of traction. European tours, 6Music airplay, reviews in The Times – everyday it's a real joy to see something new going on for Sophie because she is always humble about it and doesn't expect any of it to happen to her! Here's a video of her playing for us from last year.

Our second act this Friday will be Paul Straws and his live six piece band, which is awash with mandolins, ukulele, glorious harmonies and gorgeous cello. We first encountered Paul at Patch & The Giant's Sunday Fete event, where he was both very polite and friendly to us, and sounded exceptional (our booking criteria is fairly straight forward). Paul's music is upbeat and leaves you feeling positive without thinking you've just become too unnecessarily optimistic and life affirming about everything. There's a sterling quote he can use! Check out this video for his song 'You Wouldn't See It That Way':

Our third act at The Fiddler's will be Ma Polaine's Great Decline. These guys make you feel like you're in a 1930/40s folk-jazz club, in 2014. Their often vaudevillian live sound is really warm, but retains a good raw energy. Beth's seemingly effortless vocals sometimes mask the fact that her lyrics are not dissimilar to those of Tom Waits, except they're just not delivered in a threatening and gravely throwing-a-tool-box-down-a-flight-of-stairs manner. Here's a video for their latest single 'Suffer It Well':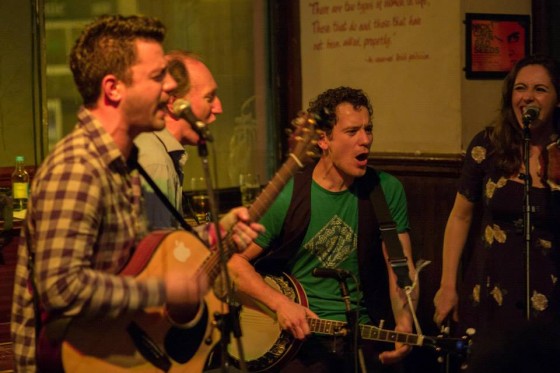 In the headline slot, a little bit of The West End comes to West Kentish Town, as we excitedly welcome The Phoenix Collective, a bustling traditional folk band comprised of original cast members from the current hit musical Once.
Originally a 2006 film of the same name, Once was adapted for the Broadway stage in 2012 and went on to win eight Tony Awards. Last year, the musical was transferred to London's Phoenix Theatre, garnering very favourable reviews and no less than six Laurence Olivier Award nominations, including best new musical. The show marries an engaging love story with foot stomping folk music played by the actors themselves.
The Phoenix Collective was formed initially as part of the pre-show, where a working bar was set center stage and theatre-goers were invited up to drink as the cast played traditional folk songs. The nightly event became so popular that, when they finished their run in the musical, the actors decided to continue doing it for real, They are now frequenting several of London's smaller music venues.
The group are very talented musicians and have been fortunate enough to have been able to rehearse every day together for a long time in preparation for the show. Consequently, their live performances are outstanding. Check out this Spotify Session that they did recently:

And that's your lot for this month. I really must go now as it's 2.19am and I'm rambling on like a midnight rambler that has been rambling on for 2 hours and 19 minutes too long. I very much hope you'll join us at BTGR this Friday, it should be a corker. And please do check back here for more in the future. Thanks for reading.
Stay folky,
Steve
Before the Gold Rush, featuring The Phoenix Collective, is at the Fiddler's Elbow this Friday, May 30. Entry £5/£6. 1 Malden Road NW5. 8pm till late. For advance tickets please visit beforethegoldrush.co.uk.