A couple of weeks ago we embarked on a mini-tour of the UK with our very good friend Nick Edward Harris. We had the great idea of doing a joint tour diary but Nick composed such a beautiful account we thought 'heck – let's just let him do all the work and we'll add a few photos'. This is a good public opportunity if ever to commend Mr Harris, his Whiskyship, for his all round musicianship, terrifying driving and noble ability on the dance floor.
The last time we went on tour, it was with Keston Cobblers' Club on their recent Tour of Borrowed Days. It seemed only appropriate to call this one A Tour Of Borrowed Whisky.
Here is Nick's account of our time together on the road. 
– Angie Rance, Patch & the Giant
Day One – Beginning
I woke up feeling quite unwell. The tour had started in London the night before, at Before the Gold Rush in Camden. Despite my hangover could barely contain my excitement for the coming days; I was going to be touring with Patch & the Giant.
We met at Gabe's house, where we were treated to home-made bread and tea. It was one of the first very warm days of the year, there was a feeling that the Summer was finally beginning. Before departing we attended to some important business; naming the tour van, group hugging and discussing at length how many changes of underwear we had packed (some band members had a plentiful ten, others a conservative two). We christened the van Michael Bolton, which felt right at the time, but in retrospect no one can quite remember why. We joyously crawled our way out of sunny London and were away.
Before not too long we were in Birmingham's Ort Cafe, thirstily drinking Red Stripe and talking excitedly in bad Brummie accents. Hayley Cannon, violin player and dedicated band member had arrived by train and we were ready to play. Ort Cafe is lovely place hidden just inside Birmingham's southern suburbs. It is small enough to be intimate, homey enough to be disarming and quirky enough to feel like it is slightly back in time. The night was run by Boat to Row, whose skills are not limited to making and performing glorious music. By the time I finished my set the room was full, but with quiet and attentive people. It was turning out to be a very nice evening.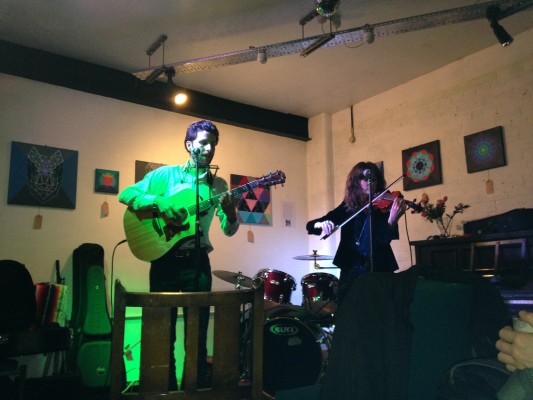 After the Mourning Suns and Patch & the Giant had played their sets, we were whisked away to a friend of a friend's house, where I had been promised toast and beer. What we got instead was far better. The host had built a kingdom of tree-houses, rum shacks, yurts and fire pits in his garden and was throwing a party. As we walked unsteadily through the darkness towards the fire, clutching a newly purchased bottle of Aberlour, we had the feeling of entering a night-time realm of soft hedonism, like wondering curiously into the spirit of the great British festival. Angie and Gabe immediately disappeared into the tree house and the rest of us infiltrated ourselves into the group around the large fire. We joined in on the instruments and shared our whisky, kindly bullying each other into playing our favourite songs and enjoying the warm glow of the deepening night. Andrew Butler had come with us and was enchanting us all with his songs of endurance and wonderfully broken love.
Day Two – From Dinosaurs to York
That morning we were blessed with a very welcome English breakfast and had a deranged discussion about 3D printing and dinosaurs. We hit the road to York, feeling a little mad from lack of sleep and euphoric from the previous evening. Michael Bolton was serving us well now, eating up the motorway miles like Wimpy meals and everyone was feeling marvelous.
We arrived in York and set up to play totally unplugged in a chapel with fine acoustics. Vicky, Miles and Aliz, of One&Other organised a wonderful evening with a kind and listening audience. We were generously plied with large quantities of wine and stomped, strummed and sung our way through the evening feeling like privileged musicians. I was honoured to be asked to join Patch again to play a harmonica solo for their cover of House of the Rising Sun. We were getting better at this now, and I was starting to really enjoy myself, like a giddy child at a birthday party. Thankfully Patch were shouted at until they played 'Daniel' as an encore to their set, which got some merry people out of their seats and dancing like country singers. The atmosphere was getting raucous. I was trying to take in each moment and appreciate what was happening. This is how good memories are made.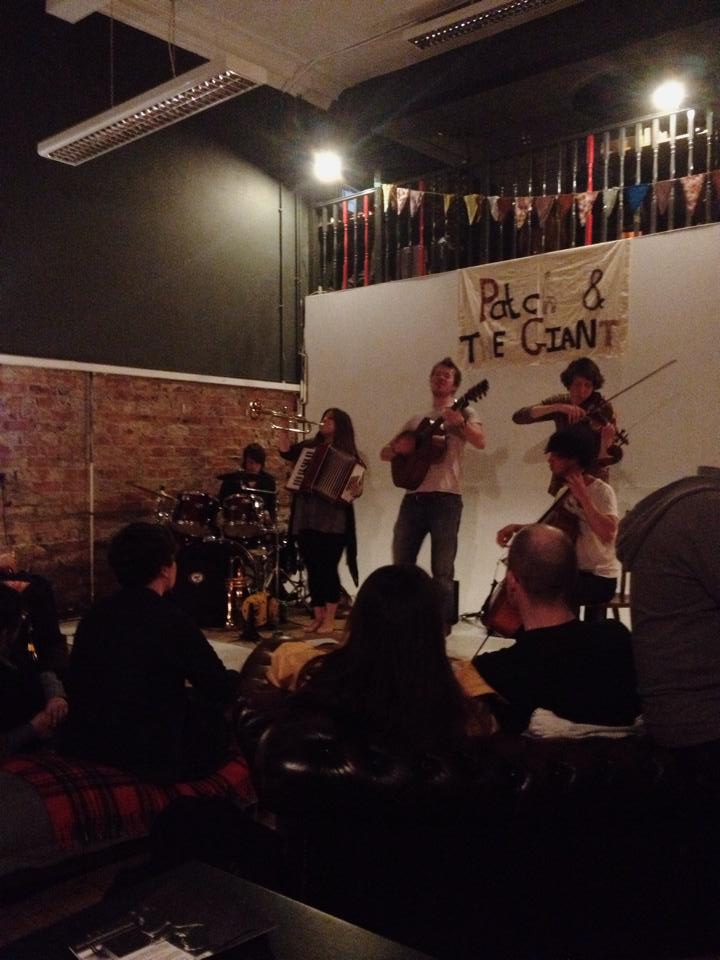 We carried on playing music into the early hours, long after everyone had left, swapping instruments and playing through our favourite old folk songs until the music finally descended into an inebriated mess of bad accordion and 80's drum fills. We were high from the thrill of performing, but drunk off our faces. Hayley Cannon, violinist and ideas-woman, cleverly ordered a pizza and we eventually retired to the roof terrace for a calming nightcap and relaxing game of 'Which dinosaur am I when I walk through the window?'. I went upstairs to lie down on the floor and lay awake, listening to the wonderful and chaotic sounds of partying below me as the dawn slowly brought its grey cloak over the chapel roof.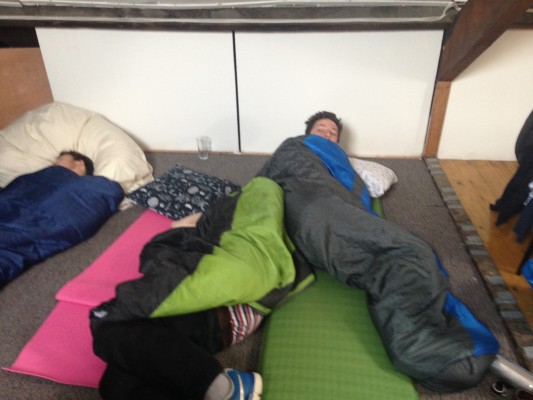 Days Three and Four – Manchester
The following morning, I woke up and trundled groggily down the winding stairs of the chapel to find Angie standing behind the bar. She was wearing my favourite Christmas jumper, laughing hysterically and drinking out of a warm bottle of white wine. It was clear we were off to a good start.
We had a peaceful walk through the quiet streets of York and a look at some rivers and the old city walls. We knew we were not there on holiday though; we had to get to Manchester to play that night. We climbed aboard Michael B, frightened the customers of a few service stations and soon found ourselves checking into our luxurious Budget Ibis Hotel (I mean 'luxurious' with total sincerity; our room had a flashing disco shower and plenty of room for six in a bed). The late nights were catching up with us now as we arrived in the rain to play at Sofar Sounds, so we knew what we had to do, it was time to go hard, or go home. I particularly enjoyed watching Patch play that night, not because of the sauce, but because they had a rawness about them that was honest and vulnerable. When they played Love and War with a sad courage, the room was alive with beautiful energy.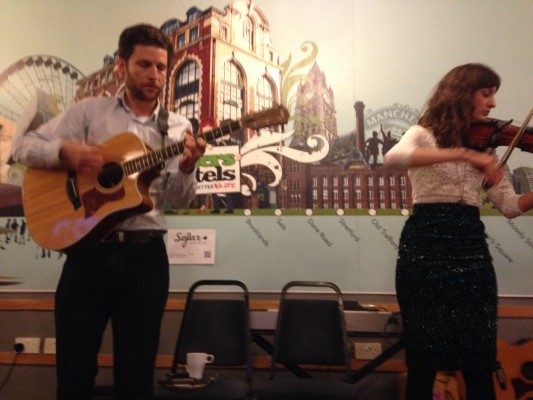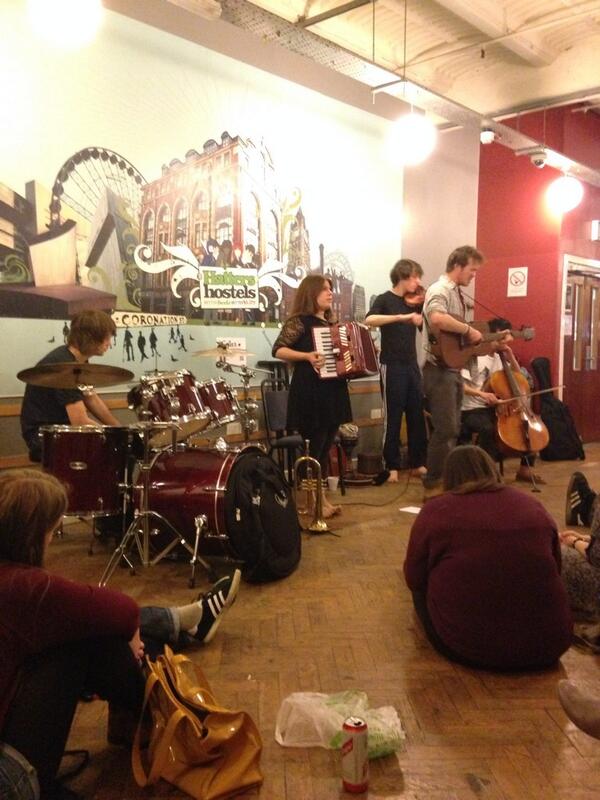 Luckily for us (as we were now feeling quite sleepy) Derek knew of the perfect bar to visit after the gig. They served revitalising pints of a rum cocktail (called Zombie), which the barman set on fire with a flame thrower before they were served and welcomed into our bellies. I lost a small part of my beard to the fire in my glass, but it was a worthy sacrifice. The night got strange and messy, energetic movement overcame us all and Gabe's trousers had to come off. We were wild and terrible dancers, we were alive and together.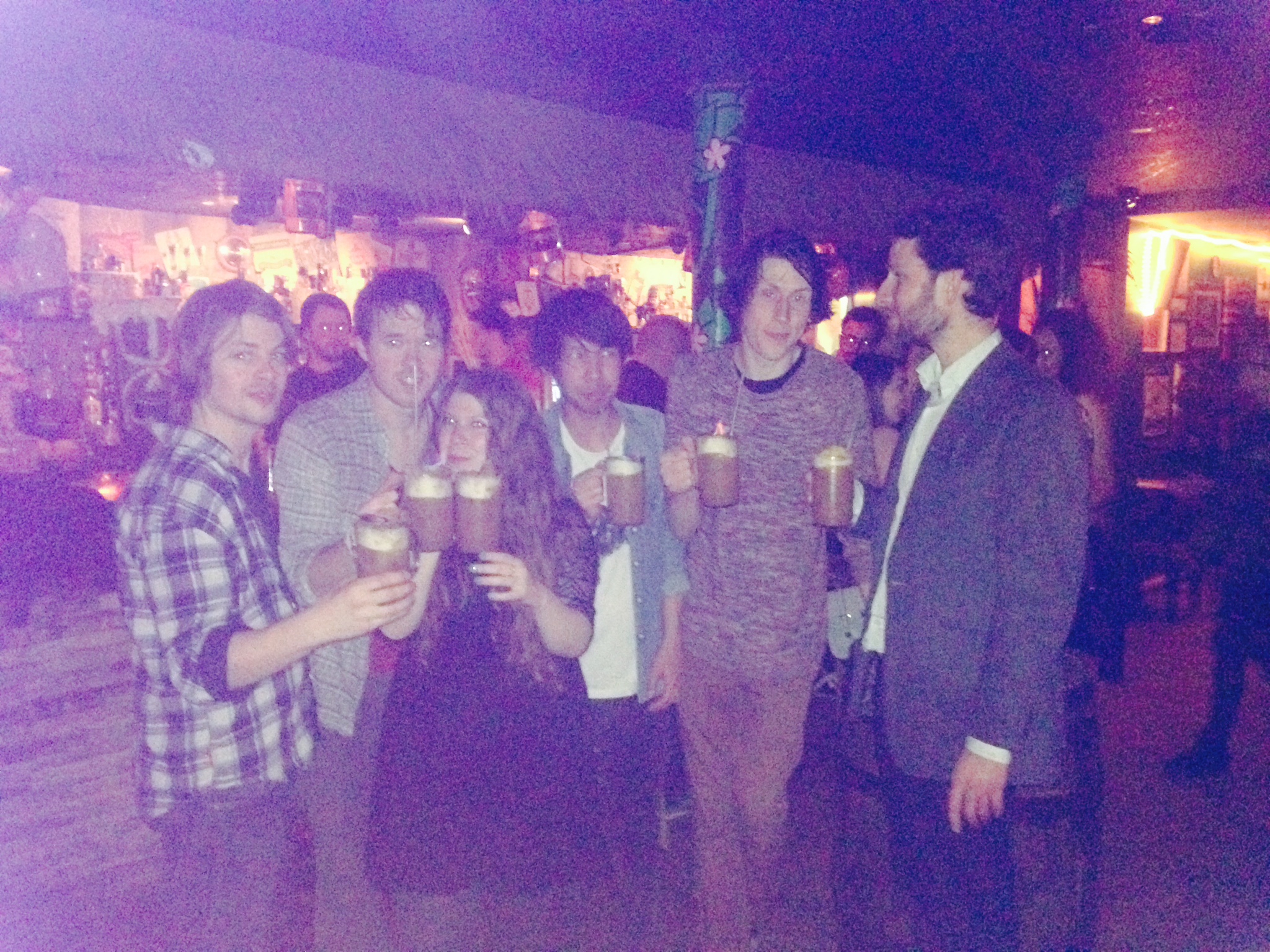 The following day, in order to restore a balance of normal rational thought to our minds, we decided to visit a museum after breakfast. Angie and Luke took a trip to Liverpool to discuss Patch's next music video with their director, and so Derek, Steve, Gabe and I took to staring at some dinosaur skeletons, goats in wooly jumpers and shrunken monkey skulls until we felt vaguely normal. We were talking excitedly about the Jurassic period and the most interesting modern day predators, we bought some bouncy balls and a gift for Angie and then walked back to get ready for the gig. 

This was the final night. I ate some sushi, put on my game face and opened a new bottle of Jamieson's with a feeling of wild optimism and slightly nervous apprehension. But there was no time for emotions here. A meticulous sound-man, another receptive audience and Allah's Will all ensured the show went well. Before I really knew what was happening we were packing our gear into the van and I was a little unsteady on my feet. At some point we had somehow gained some numbers to our group and were now being guided around Manchester's night spots by an enthusiastic homeless man, who promised us all the drugs and pleasures of the seven kingdoms. Somehow, perhaps by luck or perhaps by some unconscious desire to drink rum, we found ourselves back in Hula drinking flaming Zombies. This time I had the know-how to keep my face from catching fire. Whatever else happened in there I can't quite recall, but do know that Gabe did not take his trousers off that night until we were back in the hotel room.
When I got into my hotel room I noticed it was full of foreign exchange students, who apparently Gabe had been wooing with his Scottish charms. Having proudly shown them the disco shower, we got to drinking whisky and entertaining our guests with our stories of tour and remarkably good impressions of Oscar Pistorius. The sun come up unreasonably early that morning, catching us unaware, drinking Jack Daniels outside hotel reception, savouring the last moments of what had been the best few days we could have imagined.
When I woke up the following morning, I had a slight pain in the head. To keep morale high, we began throwing the bouncy balls around the hotel room at high speed. As we were all very strong at throwing and this was an enclosed space, it quickly became a game of luck, as it could only be a matter of time before a ball would make rapid contact with a sensitive part of the body. Gabe gave his ball a very good throw, which bounced off the floor, a mirror and hit me directly in the eye, which was just what I needed to finish the job. I was totally broken.